For the first time in its 155-year history, Drake Law School is offering a spring enrollment option, a choice no other law school in Iowa—and few in the country—offers. Incoming Drake Law students will have the option of beginning law school in January 2021, rather than waiting until June or August, the traditional start dates.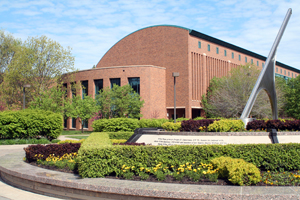 "A spring semester start date makes law school more flexible and accessible, especially for nontraditional students," said Drake Law School Dean Jerry Anderson. "In addition, we understand that the pandemic has upended students' lives in significant ways. Therefore, we want to provide incoming students with the option of commencing their studies in January."
Drake Law School students who choose to start in January will take classes in the summers and graduate at the same time as their fall semester counterparts. The admission criteria, graduation requirements, programming, extracurriculars, and scholarship eligibility remain the same for students who enroll in January.
The priority application deadline for the Spring 2021 semester is Nov. 1. For the Fall 2020 semester, the Law School is offering students the option of enrolling in a mix of in-person and online classes or solely remote classes. Information about the application and enrollment process is available at https://www.drake.edu/law/future/.