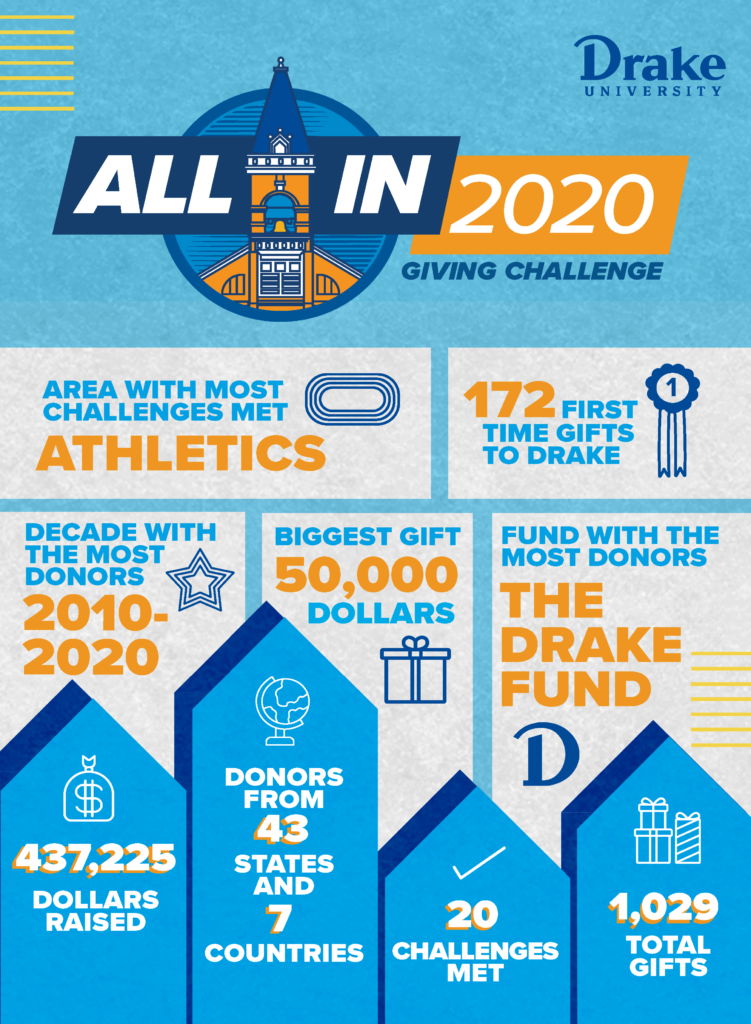 On June 23-24, Drake University celebrated the seventh annual All In. This 24-hour giving challenge brings alumni, students, faculty, staff, family, and friends together to support and celebrate the University. It's a full 24 hours of sharing Drake pride and showing the power of a community that means so much to many people.
Even in these challenging times, Bulldogs remain steadfast in their support of Drake and came together to ensure a successful 2020 All In. This year, over 1,000 donors participated to raise a grand total of $437,225 to empower student creativity, innovation, and success.
"In 2013, Drake was one of the first Universities in the nation to launch a 24-hour challenge. That first year 312 donors gave a total of $53,972.54. Every year it's gotten bigger and better, with more and more Bulldogs showing up to support all things Drake," says Becca Widmer, director of annual giving.
Throughout All In, the community celebrated what makes Drake so exceptional, including the University's academic units, athletic teams, and unique programs, including the Flight program, the Catalyst Fund, and the Robert D. and Billie Ray Center.
"All In is special every year, but this year the support of our Drake community has a deeper resonance," says Widmer, "Donors to Drake empower the University to move forward through good times and bad, through great success and daunting obstacles. We all have a share in the future of this great institution and events like All In show just how much Drake means to us and how much we believe it its ability to transform lives and strengthen communities."