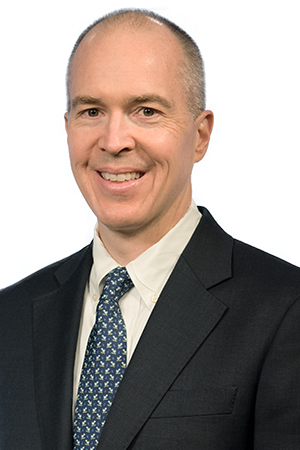 Drake University's College of Business and Public Administration (CBPA) is pleased to welcome alumnus and long-time investment professional Kevin Croft to its leadership team.
In June, the CBPA named Croft to the position of distinguished EMC Associate Professor of Practice and Director of the Kelley Insurance Center. With impressive academic and professional achievements, Croft brings more than 30 years of insurance and investment management experience to Drake.
"Kevin brings a wonderful array of skills and perspectives to the College along with deep industry ties," said Daniel Connolly, dean of Drake University's College of Business and Public Administration. "His appointment underscores Drake's commitment to serving the insurance industry and helping to position it for the future."
Croft received both his Bachelor of Science and Master of Business Administration degrees from Drake University in 1989 and 1995, respectively. He also holds an Associate of the Society of Actuaries and is a Chartered Financial Analyst.
"We, at EMC Insurance Companies, are pleased to be long-time supporters of Drake University's College of Business and Public Administration and the Kelley Insurance Center," said Scott Jean, EMC Insurance Companies president and CEO. "EMC places great importance on insurance and business education, and on developing the workforce of the future to meet our industry's needs. Kevin brings real world, executive experience and a passion for Drake to the program, which will greatly benefit students."
Croft began his career at the Principal Financial Group where he was involved in a diverse set of roles including insurance product pricing, financial statement preparation, reserve determination, developing asset liability management solutions, managing mutual funds, and investing non-affiliated insurance portfolios.
Most recently, Croft served as senior vice president and head of structured products at American Equity where he co-led the investment team managing a $52 billion portfolio and oversaw growth in the structured products portfolio from $2.7 billion to $12.9 billion.
In addition to his career success, Croft is committed to serving his community. His community involvement has included coaching youth sports and serving on the Board of Directors for the Des Moines Metro Opera, the Des Moines Embassy Club, and the CBPA's National Advisory Council.
"I am excited to return to my alma mater in a role that combines classroom teaching and allows me to continue my engagement with the insurance industry," said Croft. "Located in Des Moines—one of the most prominent insurance hubs in the world—Drake University and the Kelley Insurance Center are uniquely positioned to partner with both large and small insurance companies to creatively solve today's challenges."