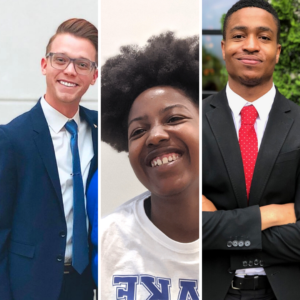 Drake Law students, faculty, staff, alumni, and friends came together to #TakeAWalk for unity and community, and to further dialogue on racial equality. The event– which drew over 100 people – was entirely student-organized.
Leaders of the Drake Black Law Student Association (BLSA) and the Drake OUTLaws (LGBTQ law student organization) collaborated on the event after feeling a desire to bring the current national dialogue on racial justice to campus.
"We wanted to shed light on issues of police brutality and race relations, give an opportunity for people to view one another as more than what's seen in the media – but as colleagues and fellow professionals, and also discuss solutions and perspectives in a positive environment with someone who we don't know and doesn't look or believe like we do," said Rachel Payton, 2L and program director for BLSA. Payton said the goal was to give the Drake Law community an opportunity to have a focused conversation on racial justice.
Christian Monyei, 2L, president of BLSA, said that BLSA serves not only to create events that educate others but also to provide a space for Black law students to fully express themselves. "This organization has shown me that not only is there so much to offer as an attorney, but there's so much to offer as an attorney of color in communities that are represented by people of color," Monyei said. "Minority students do not encompass a large demographic in higher education, so fostering a community where minority students feel at home is an essential task, especially in a taxing environment such as law school."
Derrick Wade, 2L, president of Drake OUTLaws, explained what the organization means to him and why it was important for OUTLaws to collaborate with BLSA on the event. "OUTLaws has taught me what it truly means to be an advocate; to take the skills we learn in the classroom and utilize them to serve my community," Wade said. "It was important that the Black Law Student Association and OUTLaws came together in solidarity to address current issues because of the significant overlap between our two communities' membership."
#TakeAWalk was held on Saturday, June 20th. The walk started at the Iowa State Capitol and ended at the National Bar Association monument, "A Monumental Journey." Derrick Wade and Rachel Payton welcomed participants and called on them to be vigilant and actively pursue justice in all its forms. Paxton Williams, president of the Iowa National Bar Association, spoke about the proud history and current mission of that organization, founded in Des Moines by African-American lawyers who were denied admission to the American Bar Association. Erin Lain, associate provost for Campus Equity and Inclusion at Drake University, provided remarks and a call to action to all attendees.
'"The most memorable part of the event was to see so many members of the legal community coming together to acknowledge the injustices that exist in our society and to be a part of the solution," Wade said.
For more information on Drake Law BLSA and OUTLaws, click here.