Drake University Law School and The Iowa State Bar Association announce the first-ever Cady Day of Public Service to be held on October 23, 2020.
The annual Cady Day of Public Service is dedicated to the late Iowa Supreme Court Chief Justice Mark Cady, a 1978 graduate of Drake Law School. Chief Justice Cady passed away unexpectedly on November 15, 2019, but his legacy lives on. His career as a public servant spanned 37 years and was marked by his fierce devotion to the pursuit of justice for all Iowans. He was an exemplary leader and jurist, exhibiting compassion, vision, and courage.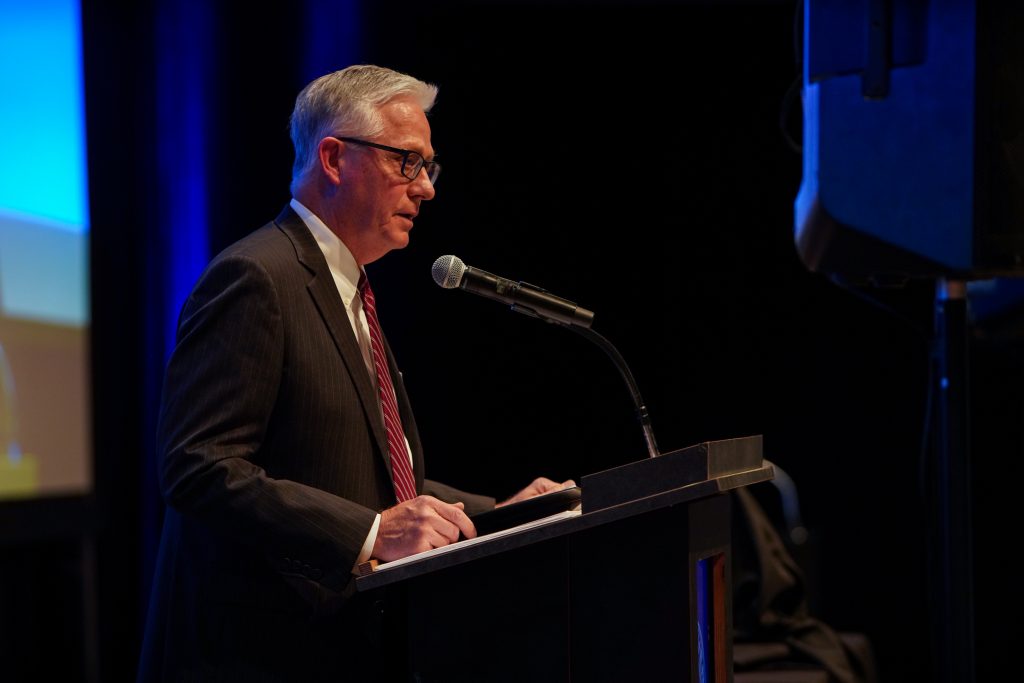 "Chief Justice Cady was a remarkable jurist and, more importantly, a truly wonderful human being," said Drake Law School Dean Jerry Anderson. "I admired him so much because his constant goal was to do the right thing to achieve a fairer legal system in Iowa—not the easy thing, but the right thing. He will always be remembered for his tireless efforts to improve the law and the judicial system, seeking to make the lives of all Iowans better. The Cady Day of Public Service is about bringing the legal community together to help others and exhibit the service-oriented spirit of Chief Justice Cady."
Members of community organizations across Iowa, including The Iowa State Bar Association, Iowa State Bar Association Young Lawyers Division, Iowa Legal Aid, Polk County Bar Association, and the Polk County Bar Association Volunteer Lawyers Project, will volunteer alongside Drake Law School students, faculty, and staff.
"Chief Justice Cady devoted his life to the rule of law, and through that, to the service of all Iowans," said incoming President of The Iowa State Bar Association, Jerry Schnurr III. "I think this day of service encapsulates much of what Chief Justice Cady stood for in finding a way for those in the legal profession to serve all Iowans where they live. The Iowa State Bar Association embraces the opportunity to partner with organizations statewide and Drake Law School to continue Chief Justice Cady's legacy."
Drake Law School also announces the Cady Law Opportunity Fellow Program, formerly known as the Law Opportunity Leadership Program. The program has been renamed in recognition of the commitment Chief Justice Cady had to diversifying the legal profession. The program provides paid internships, mentorship, and leadership training for high-achieving students from underrepresented backgrounds. Up to five fellows are selected each year for the program.
"We are thankful for Drake Law School's recognition of my father in its dedication of the Cady Law Opportunity Fellow Program and the Cady Day of Public Service. Drake University was a very important part of his life and gave him the platform and resources to pursue his legal career. These dedications capture his passion for advancing and strengthening Iowa's system of justice, and providing avenues for the next generation of leaders in our legal community," shared Spencer Cady, a 2013 graduate of Drake Law School, on behalf of his mother, Rebecca Cady, and sister, Kelsi Fraser.
---
About Drake University Law School
For over 150 years, Drake Law School has helped launch successful careers, providing a legal education that emphasizes experiential learning backed by a solid foundation in legal theory. As the only law school in the capital city of Des Moines, students gain unparalleled access to internships, externships, and clerkships. Drake Law graduates leverage the experience gained from hands-on learning and are ready to put the law in action from day one, joining an alumni network of 6,000+ who use their law degree in all 50 states and across the globe—in every facet of the legal profession. Learn more about a legal education at Drake.
About the Iowa State Bar Association
The Iowa State Bar Association was established in 1874. Representing approximately 8,000 lawyers from Iowa's 99 counties and beyond, its mission is to, "help Iowa attorneys succeed." The organization facilitates growth and collegiality among Iowa attorneys and is dedicated to promoting the interests of the legal profession and improving the administration of justice. The ISBA is headquartered in downtown Des Moines at the foot of the Iowa Capitol. Learn more about membership.