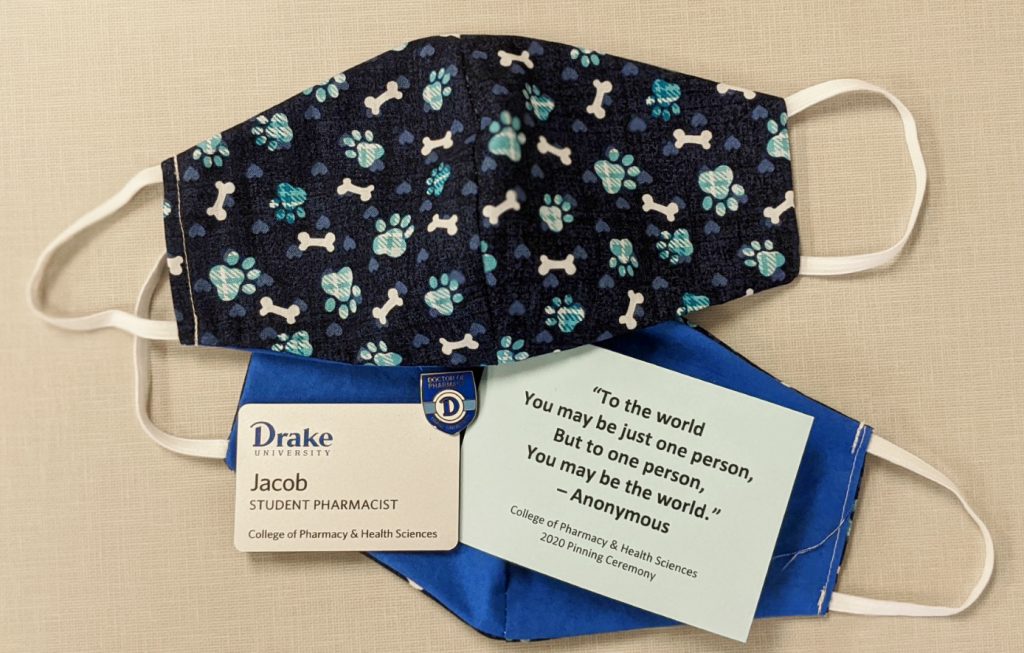 Drake University College of Pharmacy and Health Sciences (CPHS) held its annual Recognition and Pinning Ceremony virtually on Thursday, May 7, 2020. The ceremony marks the transition to final year internships, fieldwork, and rotations for undergraduate health sciences students, athletic training students, occupational therapy doctoral students, and doctor of pharmacy students. Since an on-campus celebration was unable to be held, a virtual offering of the ceremony was created for students and their families to enjoy.
To assist the students with their transition from their course work to their program's final year of experiential learning, Cassity Gutierrez, health sciences director, provided advice on how to be a transformational leader. Dr. Gutierrez was the recipient of the College's 2019-20 Richard Morrow Transformational Leadership Award.
Students moving into their final program experiences are traditionally awarded Drake CPHS name badges and pins as their names are introduced during the ceremony. The badges and pins were mailed to the students ahead of the virtual ceremony, along with face masks they can wear as personal protection equipment at their experiential learning sites. The college's pin is in the shape of a shield with the name of the student's degree program, which serves as a reminder of their program's professional values and competencies. The line with the Drake 'D' in the center circle serves as a reminder that the students are always representatives of the Drake University College of Pharmacy & Health Sciences.
"We recognize the hard work and dedication that students have achieved to reach this point in their academic careers," said Renae Chesnut, dean of the college of pharmacy and health sciences. "This ceremony commemorates the milestone that our students have reached in entering their final year of experiential education."
During the ceremony, Dean Chesnut announced the recipients of a number of prestigious awards.
Health Sciences Awards: 
Corey Elliott, a junior health sciences student, was presented with the Outstanding Health Sciences Student Award. Recipients of this award have excelled in their coursework and have been active in University and College professional organizations and activities. Elliott is completing degrees in Health Services Management and a Master of Business Administration.
Jason Grady, a junior health sciences student, received the Health Sciences Student Leadership Award. Grady is an active member of HOSA and served in a mentorship role by assisting first-year Health Sciences students with professional development opportunities. He is widely acknowledged by health sciences faculty for his outstanding professionalism and academic strength.
Athletic Training Award: 
Madi Sehmer, a first-year master of athletic training student, was awarded the Emerging Clinician Award. This award is granted to an athletic training student who is already demonstrating the qualities necessary to thrive in the practice of athletic training. A recipient of this award will have demonstrated passion for applying classroom knowledge to practical exams and experiences. They will possess the necessary critical thinking and personal skills to be quick on their feet and respond positively to adversity and challenges that commonly occur in the field. Finally, the recipient will have strong interpersonal skills that allow them to connect and collaborate with clinicians and patients to provide quality care. 
Sehmer has demonstrated these qualities through positive feedback from preceptors and faculty alike. She is clearly on the path toward becoming a quality clinician.
OTD Awards: 
Chelsea Steffens, second-year occupational therapy doctoral student, won the Occupational Therapy Scholastic Achievement Award. Recipients of this award have excelled in their coursework, and their academic performance is in the top 25% of their class. Steffens has developed a strong record of research participation both interprofessionally and within her chosen field of occupational therapy. She collaborated with an interprofessional team to compete in the 2019 National Clarion Competition. She was one of a group of students who presented at the 2019 AOTA Student Conclave. And, she was selected as a participant in the Summer Institute for Future Scientists in Occupational Therapy, which is one of the most prestigious research-related opportunities for occupational therapy students.
Keli Zemke, second-year occupational therapy doctoral student, was awarded the Occupational Therapy Leadership and Professional Development Award. Recipients of this award demonstrate drive to advance the profession of occupational therapy through leadership opportunities, publications, or involvement in professional presentations. Zemke demonstrated outstanding leadership as the past president of Pi Theta Epsilon, Honor Society for Occupational Therapy and coordinated Pi Theta Epsilon efforts for the continuing education course for community occupational therapists. With great vision, she helped to organize Pi Theta Epsilon into a thriving chapter focused on scholarly activities and promoting excellence among students as future occupational therapists. Zemke was part of a team of students chosen for the Ron and Jane Olson Outstanding Global Service Learning Award with a project focusing on virtual global health.
PharmD Awards: 
Michelle Lin, third year doctor of pharmacy student, received the Excellence in Public Health Pharmacy Award. This award was established by the United States Public Health Service to recognize student pharmacists who make significant contributions to public health. Lin has a deliberate record of pursuing initiatives and experiences that benefit public health. She has completed two summer tours of duty working with Native American populations as an Ensign in the Junior Commissioned Officer Student Training and Externship Program (JRCOSTEP).
David Wood, a third-year doctor of pharmacy student, was recognized as the winner of the Lon N. Larson Engaged Practitioner Award. Established through memorials made in his honor, the annual Larson award is presented to the student that most demonstrates the values and actions for which Dr. Larson, previous faculty member, was best known: high ethical standards, reflective practice, innovation, and community service. Wood has displayed the same passion for the profession that Dr. Larson continually conveyed to his students and mentees. He has held several leadership roles but excels most as a team member that pushes others to be excellent, and gives back to the community by being an engaged citizen.
Wood is a member of the Iowa Pharmacy Association, the National Community Pharmacists Association, and Phi Delta Chi pharmacy fraternity. In addition, this year's recipient has served as student member of the Provost's Student Advisory Board, president of our student National Community Pharmacists Association chapter, and has participated in the Adams Academy Leadership Institute. When reflecting on Dr. Lon Larson's memory, Wood stated "I have attempted to live in this way, improving myself as a professional and a leader, while simultaneously having a positive impact on my peers, professors, and community members. 

Students receiving pins included the following: 
Health Sciences Students: Jaclyn Andersen, Madyson Anglim, Keith Barnett, Alexis Cosatino, Mitchel DeKeyrel, Meghan Dixon, Jenevi Doan, Corey Elliott, Alexander Fischer, Jason Grady, Amy Helseth, Steph Jarecki, John A. Jenson, Alex Klosterman, Swapna Kowkuntla, Noah Linder, Josie Lowe, Jake Midby, Matalyn Perry, Emily Plock, Morgan Robinson, Abby Rye, Joy Schnoebelen, Gwen Soliz, Nicole Timmons, Sabrina Uddin, Annika Weisjahn, Faith Wilson, Haley Wood
Master of Athletic Training Students: Drew Orr, Frankie Porter, Madi Sehmer
Occupational Therapy Doctoral Students: Audrey Baker, Laura Brady, Lizette Cruz, Sabrina DeHerrera, Hanna Denkler, Corinne Drummond, Cheyanne Ellis, Kelsey Finn, Angelica Gacek, Andrew Galvez, Lindsey Gidel, Sydney Ginkens, Sarah Gronau, Haylee Huedepohl, Kelsey Huss, Jessi Jacobs, Janna Johnson, Brooke Krogman, Danae Lane, Maranda Metz, Hailey Mills, Cassidy Mullins, Jessica Neff, Regan Odegard, Ewa Pawelko, Carly Perryman, Taylor Pirillo, Jessica Pottebaum, Jessica Reynalds, Rachel Rose, Myranda Runneberg, Richie Serrano, Lacie Sleezer, Katelyn Smith, Dana Stanek, Chelsea Steffens, Baylee Stoll, Whitney Valasek, Kaitlyn Williams, Madison Wood, Paige Wooldridge, Lauren Wyllie, Keli Zemke
Doctor of Pharmacy Students: Natalie Ake, Ali Altaie, Jason Anderson, R. Annemiek Arkema, William Augspurger, Alexandrea Bennett, Erika Bethhauser, Andrew Bjorlin, Leah Blader, Dani Boone, Taylor Boorn, Tessa Buehrer, Matthew Burton, Nicholas Cao, Vivi Cao, Jillian Chambers, Miranda Christenson, Kevin Clough, Lydia Code, Micahel Coleman, Layne Davis, Brayden Dawson, Maia Determan, Jacob Drettwan, Emma Fervoy, Noah Fletcher, Emily Freier, Hanna Friedrich, Abby Frommelt, Rita Hammer, Sedie Harms, Sean Harnois, Morgan Hawkins, Rebecca Heinert, Lindsay Hillmer, Katarine Hockey, Sydney Holte, Brooke Huegli, Aldin Karic, Riley Karpen, Josh Kim, Justin Klein, Celyna Koopmann, Jane Laubengayer, Paige Mall, Husein Mehmedovic, Nicole Melby, Kennedy Merical, Dinka Miljkovic, Johnny Mills, Claire Monzel, Carolyn Morrissey, Katelyn Mouser, Areeb Nagamiyan, Phuong Ngo, Sonia Ngo, Monica Nikseresht, Tom Noll, Alix Noteboom, Andrew Olson, Elizabeth Orput, Austin Park, Vidhi Patel, Rachel Paulmann, Kenzie Pfeffer, Vy Pham, Michaela Phelps, Katelynn Phillips, David Poidomani, Nevin Radechel, Andrew Ramdhani, Jacey Redman, Kayla Reuter, Morgan Ridout, Renee Rivera, Robert Schroeder, Kristine Schwietz, Jacob Sepka, Emily Skjeveland, Rachel Soppe, Steven Strong, Kimberly Tang, Erica Thacker, Courtney Toth, Brittany Taut, Jesse Upton, Taylor Volesky, Katie Vollmer, Rachel Wedemeyer, Abby Wedoff, Olivia Welter, David Wood, Will Wright, Katie Yeo