Assistant Professor of Literacy and Early Childhood Education Jen Thoma knows her students have other things going on in their lives.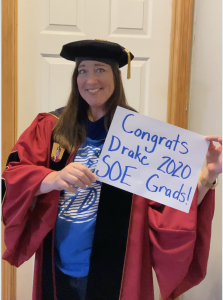 "Some of my students are parents," said Thoma. "Some work jobs to pay tuition or support their families. Some are in living places without internet or adequate technology. I am amazed at their strength."
Thoma said despite these challenges, her students continue to hold themselves to high standards. She said she can see when they are frustrated or overwhelmed while trying to do their best in all arenas—as students, parents, children and caregivers.
"I have sometimes had to direct students to take a beat and prioritize family and health," Thoma said. "We have been creative in finding ways to complete assignments so that they can manage work and school and ultimately be successful."
Through the challenges, Thoma said members of the Drake community have drawn strength from each other.
"There have been so many instances where students, faculty, and staff have held each other up and supported each other," said Thoma. "We are a community that values each other. We all have high standards, but we work together to make sure we reach these high standards in a way that shows we are human and we care for one another."