In spring 2020, Dan Chibnall was scheduled to teach a course in science literacy—and then COVID-19 erupted.
"From the first day of class, we followed the outbreak of the coronavirus in Wuhan, China," Chibnall said. "We focused on the outbreak in real time, like seeing a huge wave approaching from a distance."
Chibnall is an assistant professor of librarianship at Drake, and he is also the Drake science, technology, engineering, and math (STEM) librarian at Cowles Library. His course, titled "Communicating Science: Bringing Scientific Information Literacy to the Public," has never been more relevant.
"Part of my course is teaching students how to sift through misinformation and have conversations with people about difficult scientific topics," Chibnall said. "We also learn how to be better advocates for science and scientific thinking."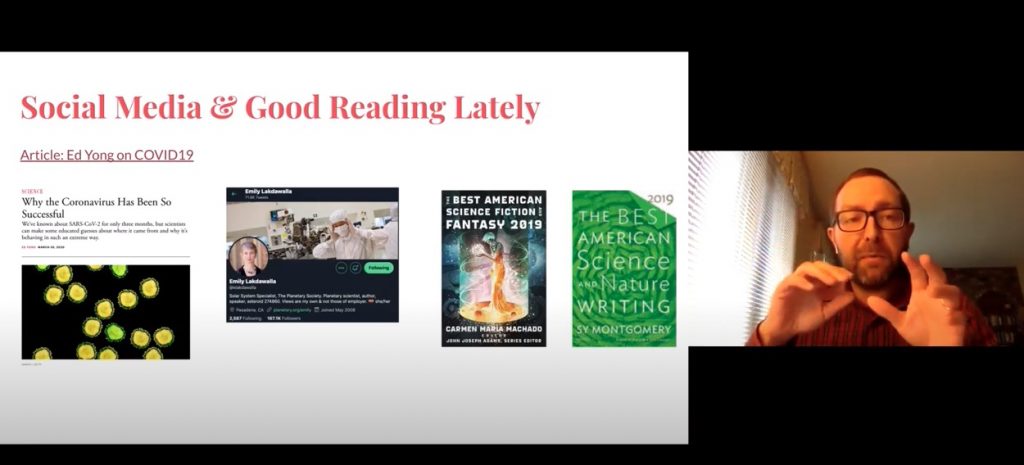 With the pandemic on everyone's minds, Chibnall shifted his curriculum to incorporate real-time examples.
"I'm really glad we covered it every week," Chibnall said. "Not only was it an essential part of the course, but it was also arming the students with the information and facts they needed to be good science advocates and communicators in a difficult time for them, their families, and their friends."
A self-described extrovert, Chibnall is a fixture in Cowles Library and a resource for helping students conduct research. As his course shifted mid-semester from in-person to online, he used technology to try to maintain the character of his classes.
"I started recording two videos a week with content, questions, examples, ideas, and images to help the students learn about the different skills we were working on that week," Chibnall said. "I wanted to make the videos a balance between formal learning and the informal feeling of 'Hey, I'm in this too, just like you, so let's learn together and forget about the stress for a while.'"
For future online classes, Chibnall is working on ways to further increase interaction with and between his students.
"I value the Drake connection of getting to know one another, learning together, and interacting in deep, meaningful ways," Chibnall said. "I plan to increase the time we spend meeting online in real time, talking, brainstorming, and working through tough problems together."