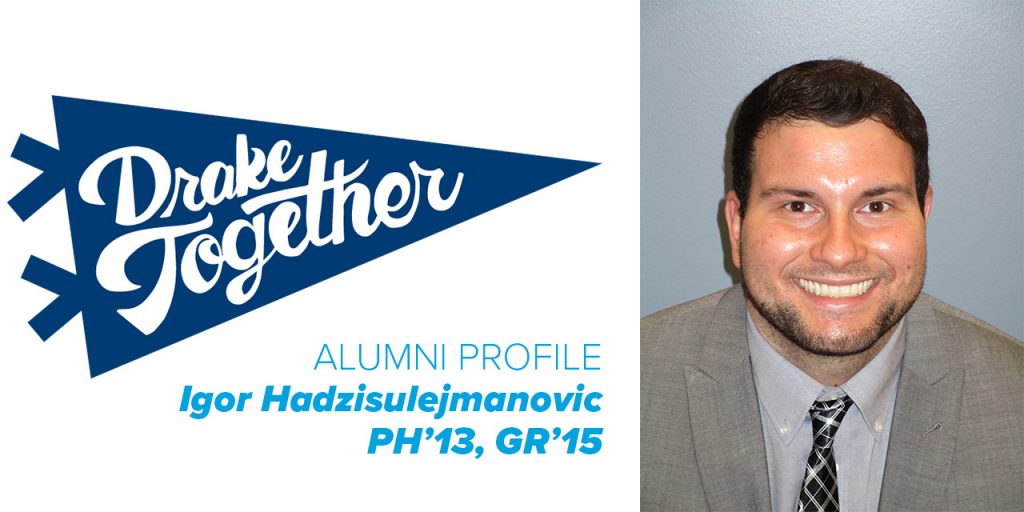 Though we are separated by miles, we are still bonded by our Drake experiences. During this challenging time, we are celebrating that bond through #DrakeTogether stories of Bulldogs making a difference.
In the face of the COVID-19 pandemic, the spotlight is on public health. That's where Drake University alumnus Igor Hadzisulejmanovic, PH'13, GR'15, steps in.
Hadzisulejmanovic graduated from Drake with a bachelor's degree in health science and administration in 2013, and again with a master's degree in public administration in 2015. Now, Hadzisulejmanovic serves as the public health emergency response coordinator for Douglas County, Neb. The county is home to Omaha, Nebraska's largest city.
Prior to his time at the Douglas County Health Department, Hadzisulejmanovic was primarily responsible in assisting in the Emergency Management office for a hospital facility in the Des Moines area, Mercy Medical Center. When he moved to Douglas County, his role changed to community-based planning for unforeseen crises through coordination with local healthcare organizations and planning for mass medical countermeasure distribution of items such as masks, antibiotics, vaccines, and other personal protective equipment (PPE).
"My role was ensuring that we had plans in place for how the department would support the healthcare and medical response to a number of hazards, what we call all-hazard planning. This could include if there was a large storm—or if there's an infectious disease outbreak like the pandemic," says Hadzisulejmanovic. "We're basically working on plans with partners and ensuring that everyone's on the same page, and the needs of the community are being met."
In the face of the pandemic, Hadzisulejmanovic says his job has changed slightly. Due to the implementation of the incident command structure, he was given the role of operations section chief for the Douglas County Health Department. In this position, Hadzisulejmanovic coordinates a team that provides epidemiological surveillance, does case investigations, and implements non-pharmaceutical intervention controls. He also is directly responsible for fielding resource requests for PPE.
"I help our team by making sure that they have the necessary resources and personnel and provide liaison support with any groups that they might need on my end," says Hadzisulejmanovic.
According to Hadzisulejmanovic, his time at Drake allowed him to be a critical thinker, and a leader in his community, even in times of crisis. Hadzisulejmanovic also credits his professors for preparing him to work effectively with the healthcare system.
"Drake really prepared me through some of the healthcare classes I took," says Hadzisulejmanovic. "Without a good knowledge of how the healthcare system [works], I wouldn't have been as prepared in my role to understand how best to support the healthcare systems and providers in times of emergency and crisis."
Through his time in this position, Hadzisulejmanovic recognizes how the different parts of healthcare all work in concert. In the future, he hopes Drake continues to emphasize and expand the study of public health.
"The public health infrastructure, in general, works as a backbone for the healthcare system," says Hadzisulejmanovic.
Drake's health sciences program features a rigorous, interdisciplinary curriculum with courses across a variety of subject areas, providing a solid scientific background as well as the interpersonal skills needed for students to become successful health care professionals. Students complete one of two tracks in the program—Clinical and Applied Sciences or Public Health and Healthcare Administration. Many students also complete a Global and Comparative Public Health concentration, that allows for more in depth study into epidemiology and global health issues.