This is the second in a series of stories on excellence and innovation in online teaching—despite the challenges posed by the pandemic.
When classes were forced to move online this spring, Mark Vitha, Windsor Professor of Chemistry, knew he had to find new, creative ways to engage and connect with students. Hence the creation of his new series "The Room Where it Happens."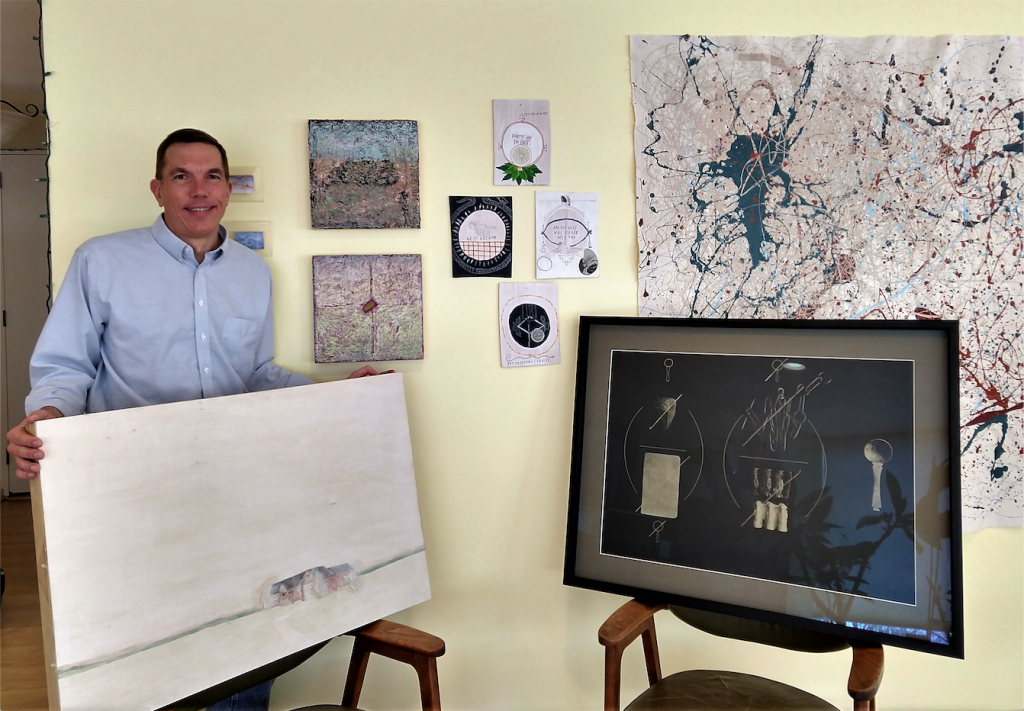 Each Friday to kick off class, Vitha virtually invites students into his home and shares a side of his personal life. During the first week of remote classes, he gave students a virtual tour of his condo, including a glimpse into his thriving indoor plant collection. The following week he showed off his artwork, which to no surprise—given he is married to Maura Lyons, Drake professor of art and design—is an impressive curation of works completed by Drake faculty members. Most recently, he shared his taste in music and some of his favorite CDs.
Vitha described the concept for "The Room Where it Happens" as a way for his students to see where their lectures are recorded, but even more than that, a way to maintain the personal connections Drake students are accustomed to.
"Professor Vitha is one of our best," said Drake University Provost Sue Mattison. "Like so many of our faculty, he is committed to supporting and mentoring students, which is what distinguishes the outstanding Drake educational experience, and is one of the four pillars of the Drake Commitment. I am so proud of our faculty—they care deeply about students' success and learning, and are creatively connecting and guiding them through this extraordinary time."
In addition to establishing connections, Vitha embraces empathy and flexibility as part of his online learning approach. He records his lectures, which provides students the freedom to watch them whenever they want within a certain time-frame. He also holds six virtual office hours each week in which students can discuss class content with him one-on-one and even solve equations together on a virtual whiteboard.
Vitha also understands the power of a mental-health break. To conclude his Friday class, he often guides students through an optional 15-minute mediation session—something he started before the pandemic and has continued to do online. While the calming exercises frequently include some chemical aspect, such as visualizing molecules and reactions, they are generally designed to help students relax and focus their minds before entering the weekend.
When asked how he's spending his time during this age of social-distancing, Vitha shared that he's taking a free, online course on well-being through Yale University as a way to put himself in his students' shoes.
"One of the things that is clear in all of this is how much I miss interacting with students," said Vitha. "I am not only challenging myself to create new forms of connections virtually, but to also experience things from their perspective, which means remaining open to students' ideas and working with them as we navigate through this new learning environment."