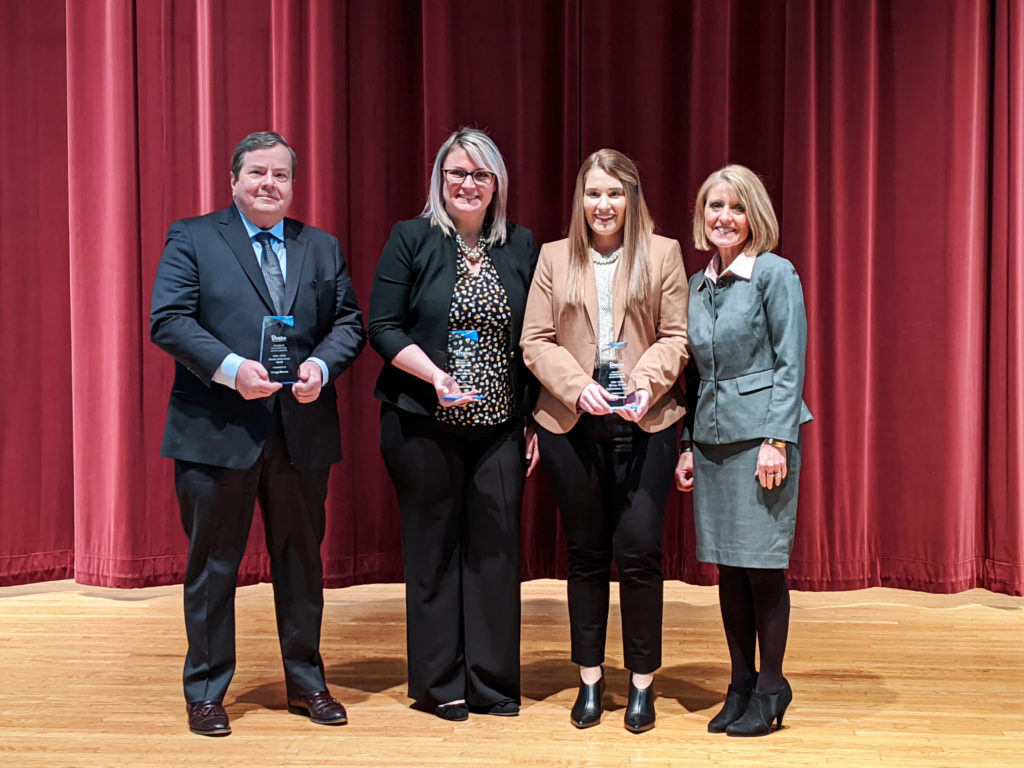 The College's annual Alumni Achievement Awards were presented at Health Professions Day on February 27th. This year's outstanding alumni included Young Alumni Achievement Award recipient, Aubrey Frette, PH'14, and Alumni Award Recipients, Sanela Bilic, PH'03, GR'03, and Gregg Brown, PH'78, LW'81.
"Our 2020 Alumni Achievement Awardees are a distinguished group of individuals with many achievements," said Renae Chesnut, dean of the college. "Their professional accomplishments, commitment to our students, and dedication to their communities is nothing short of inspiring."
Aubrey Frette, PH'14
Aubrey Frette, DDS, earned her Bachelor of Science in Health Sciences from Drake in 2014 and her Doctorate of Dental Surgery from Creighton University School of Dentistry in Omaha, NE in 2018. As a dental student, Aubrey volunteered at many health fairs providing both dental care and dental education to the underserved population, completed oral health exams and placed sealants on students at many elementary schools, and assisted with the execution of an event called Smile Miles 5K race to offset the cost of dentures for those in need.
Since graduating from dental school, Aubrey joined O'Meara Dental in West Des Moines as an associate dentist. She is an active member of both the American Dental Association and the Iowa Dental Association. Her passions include giving back to the community through mentorship, providing dental work for the underserved, and being an advocate for women in both business and dentistry.
Sanela Bilic, PH'03, GR'03
Sanela Bilic earned her Doctor of Pharmacy and Master of Business Administration degrees from Drake in 2003. After graduating from Drake, she completed a 2-year drug development, clinical pharmacology fellowship with a focus in Oncology at the University of Buffalo and Novartis Pharmaceuticals. She worked in clinical pharmacology for Novartis and D3 Medicine (now Certara) for a combined 14 years. Sanela has extensive hands-on experience with all phases of drug development globally. Her areas of focus are on developing cell therapies, immune-oncology therapeutics and ADCs. She is passionate about working with other healthcare professionals to solve drug development issues and to develop a cancer cure.
In 2005, Sanela began leading the University of Buffalo and Novartis Fellowship program where she's been a mentor to 13 post-doctoral fellows. In 2018, she started her own company, Vanadro, that focuses on drug development and clinical pharmacology. With a partnership between Vanadro and Drake's College of Pharmacy and Health Sciences, Sanela started a post-doctoral drug development fellowship program in 2019.
Gregg Brown, PH'78, LW'81
Gregg Brown earned his Bachelor of Science in Pharmacy from Drake in 1978. During his time at Drake, he was elected Vice Regent of Kappa Psi Professional Pharmaceutical Fraternity and organized health screening in the community. While enrolled in Drake's Law School, he worked in various retail pharmacies in Des Moines and the Broadlawns Polk County Hospital. His goal was to explore areas of legal practice that would allow him to draw upon his undergraduate studies in the sciences, which led him to focus on intellectual property law. After graduating from Drake's Law School in 1981, Gregg worked as a patent lawyer at the Stevens, Davis, Miller and Mosher firm in Arlington, Virginia. Itching to work in the pharmaceutical realm, he couldn't pass up the offer to work for an in-house patent department at Alcon Laboratories, a medical company specializing in eye care products, in Fort Worth, TX in 1984.
Gregg was responsible for securing patents related to research and development initiatives, pursuing litigation to enforce Alcon's patent rights, assessing potential obstacles to Alcon's pursuit of new product opportunities, and providing legal counseling to senior management. During the last half of his career at Alcon, he was involved in numerous transactions for the acquisition or creation of new products for the company. After 30 years at Alcon, Gregg retired as the Vice President and Chief Intellectual Property Counsel in 2014.
A few years ago, Gregg began the C. Boyd Granberg Student Excellence Fund and has been an active promoter to create a fund that benefits students while honoring someone who played an important role in the College's history. He is honored for his role in inspiring others to donate to this fund.