John Gilbertson, a third-year student at Drake University Law School, was recognized onstage during GRAMMY Week 2020 at the 22nd Annual Entertainment Law Initiative Event and Scholarship Presentation, hosted by the Recording Academy. His paper, titled Play It Again Sam: The Free-Market Case for Government Intervention in the Music Streaming Sector, received runner-up in the Entertainment Law Initiative Writing Competition, winning him a trip to Los Angeles and a $2,500 scholarship.
In his paper, Gilbertson explores the disparity between record labels and music publishers in streaming royalties. Because of current regulations, record labels can negotiate rates, but music publishers cannot. Gilbertson makes the case for changes to the system, arguing that the most pragmatic approach to the issue would be to regulate record labels, rather than deregulate music publishers.
Gilbertson learned of the competition just a few weeks before the submission deadline. His mentor, Brandon Clark, LW '10, an intellectual property attorney who primarily focuses on the music industry, served as a sounding board. "John took the initiative, and with a quick turnaround, wrote an extremely high-quality paper," Clark noted. "The Entertainment Law Initiative is a big deal in my field, and I was very excited for him."
The Entertainment Law Initiative event is the preeminent gathering for entertainment attorneys and other music business professionals during GRAMMY Week. It was hosted at the Fairmont Miramar Hotel near the Santa Monica Pier.
"Nearly 500 people attended, representing the 'cream of the crop' of the entertainment and media law world," reported Gilbertson. "Jeff Harleston, general counsel of Universal Music Group, won the 2020 Service Award and delivered the keynote speech."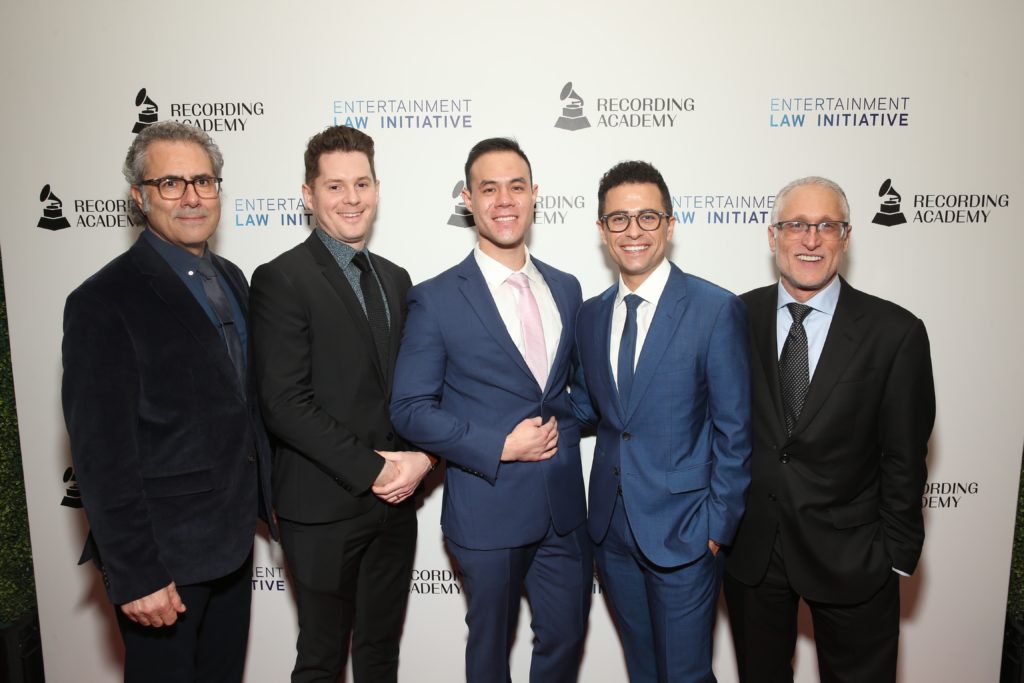 Gilbertson also networked with practicing attorneys in the area at a rooftop event, embracing the opportunity to meet people in a more relaxed setting with, "amazing views of the ocean and the city." Gilbertson is originally from Iowa. He attended the Berklee College of Music in Boston, Massachusetts before moving to California to gain experience in the industry. After spending 10 years in California, he was ready for a new challenge.
"I wanted to pursue something a little more intellectually stimulating and decided on intellectual property law to specialize in trademarks and copyrights." Although he was accepted to law schools in California, Gilbertson elected to come back to his Iowa roots to pursue his dream.
In law school, Gilbertson has discovered his strength in writing. Another paper he wrote, Blunt Advice: A Crash Course in Cannabis Trademarks, will be published this year in Volume 60 of IDEA: The Intellectual Property Law Review.
Gilbertson currently clerks at Zarley Law Firm, a specialty firm in downtown Des Moines dedicated to intellectual property law.
When asked what advice he would have for prospective and current law students, Gilbertson said, "Find out what area of law you like, then meet people, meet people, meet people. And don't just network. Make meaningful connections. Relationships are everything, and if you have good ones, opportunities will present themselves."