Kirsten Greenidge, a playwright from Boston, will speak at Drake University on Monday, Feb.10, at 5:30 p.m. in the Cowles Library Reading Room. She is the second featured speaker in the Drake English department's annual Glaspell Writers & Critics Series. All events in the series are free and open to the public.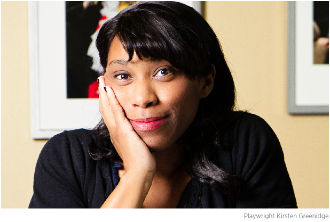 An award-winning playwright, Greenidge is the recipient of a Village Voice Obie Award for her play Milk Like Sugar, which was commissioned by La Jolla Playhouse and Theatre Masters, and co-produced by La Jolla Playhouse, Playwrights Horizons, and WP Theatre. The play also received a Lucille Lortel nomination, an AUDELCO nomination, and an Independent Reviewers of New England (IRNE) Award. Her other plays include The Luck of The Irish; Baltimore, the product of a Big 10 Consortium Commission: a program created to address the lack of roles for female Bachelor of Fine Arts (BFA) candidates; Zenith; Bud Not Buddy; Splendor; and many others.
Greenidge received her Bachelor of Arts in U.S. history from Wesleyan University, where she studied playwriting with screenwriter Darrah Cloud, and won her first playwriting award. She also attended the Iowa Playwright's Workshop at the University of Iowa. Currently, Greenidge is playwright-in-residence at Company One Theatre in Boston as part of the Mellon Foundation's National Playwright Residency Program. She is also an assistant professor of theatre at the school of theatre at Boston University.
Her work often explores racial, class, and gender issues and considers the intersection of race and class in America. Greenidge seeks to establish multidimensional roles for underrepresented actors of color, as well as female roles. She strives to put minority voices on stage, produce plays that challenge traditional beliefs, and inspire positive changes.
About the Susan Glaspell Writers & Critics Series
The Susan Glaspell Writers & Critics Series is sponsored by the Drake English department and made possible by a grant from the Drake University Center for the Humanities. Coming up in the series, Drake's English department will be hosting filmmaker Christopher Harris on March 26. For more information, visit drake.edu/english/susanglaspellwriterscriticsseries.