Welcome to spring semester!
2020-21 scholarship applications available
Pick up an application for scholarships for next year on the table outside Mer. 119. Scholarship applications are due to administrative assistant Denise Ganpat in Mer. 118 by Friday, Feb. 14.
Important dates for spring semester
Some important academic dates for undergraduate students to keep on their radar screens:
Last day to add a class: Friday, Jan. 31
Last day to drop a class without a "W" grade: Friday, Feb. 7
Summer, fall and January Term 2021 schedules available online: Tuesday, March 3
Midpoint of semester: Friday, March 13
Midterm grades due: Wednesday, March 25
Last day to drop a class without extenuating circumstances: Wednesday, April 1
Registration for summer, fall and J-Term begins: Monday, April 6
Drake Relays: Thursday-Saturday, April 23-25
Day free for study: Friday, May 8
Final exams: Monday-Friday, May 11-15
Commencement: Sunday, May 17
Career development events scheduled
Drake Professional and Career Development Services has scheduled two events to help you get ready to apply for internships and jobs:
Resume critique: Thursday, Feb. 6, 11 a.m.-5 p.m., upper Olmsted conference rooms. Bring your resume to be reviewed by career services staff and professional volunteers. No appointment needed.
Career fair: Thursday, Feb. 13, 3-3:30 p.m. for seniors, 3:30-6 p.m. for all students, Olmsted Center. Register via Handshake events. Bring your resume and business cards; dress in professional attire.
Join Drake Mag brainstorming session
Interested in writing for Drake Mag this spring? Join the spring brainstorm session on Thursday, Feb. 6, 7-8 p.m. in Mer. 104 to pitch your ideas and get a first-hand look into the next issue. The magazine is also looking for ideas from interested photographers and designers. Email madi.koetting@drake.edu with any questions or inquiries.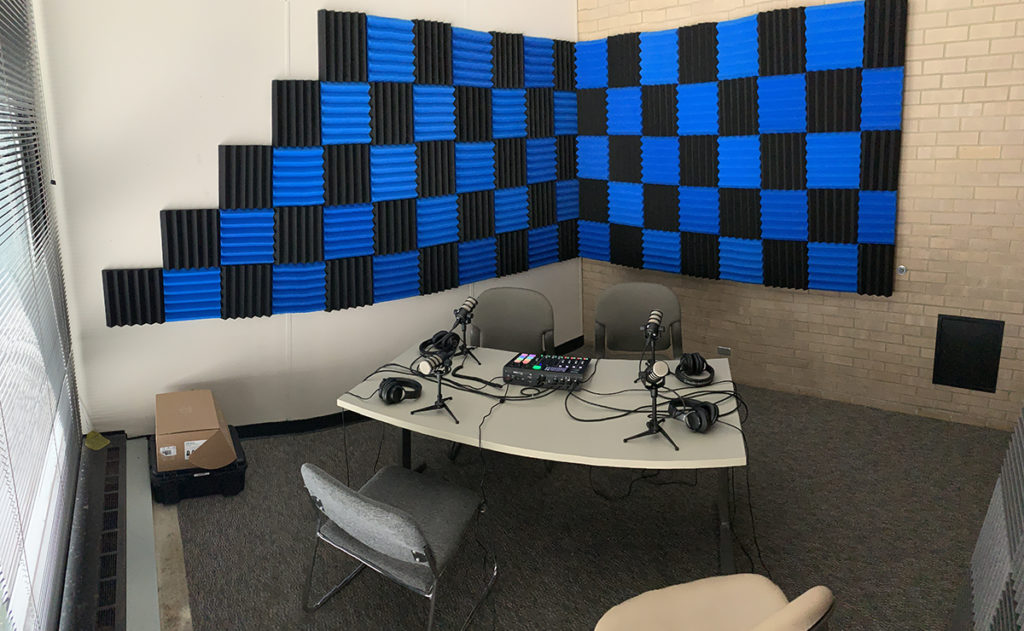 New podcast space
The Drake Innovation Studio and the Drake SJMC have combined to create a new podcast space on the first floor of Meredith Hall. If you're interested in using the space, reach out to Professor Chris Snider.
Scholarships available to journalism conferences
ProPublica is offering scholarships for students from underrepresented groups to attend journalism conferences. For more information and to apply, see https://www.propublica.org/article/students-propublica-wants-to-pay-for-you-to-attend-a-conference-in-2020
Learn more about PMAC, orientation leader opportunities
Peer Mentor/Academic Consultant:
Consider becoming a Peer Mentor/Academic Consultant (PMAC) and help welcome new students to Drake.
PMACs will continue to serve as a resource and motivator throughout the fall semester. Communication with new students will begin over the summer and continue throughout the fall semester. Based on research findings and past experiences, peer-to-peer interaction with an emphasis on students' academic success and personal development is particularly important to overall growth during the first year in college. PMACs play an essential role in making sure new students are acclimated to their new environment before classes begin.
If you are interested in becoming a PMAC, attend a final informational session on Tuesday, Jan. 28 at 5:30 p.m. in Olin 101. PMAC applications are due Sunday, Feb. 9. Apply here
Read more about this position at the website. Contact the Peer Advisory Board at pab@drake.edu or Marina Verlengia at marina.verlengia@drake.edu with any questions.
Orientation Leader:
Want to help welcome new students to Drake and land a job on campus this summer? Consider becoming an orientation leader.
Orientation leaders are dedicated to providing incoming students and their families with all the information and resources necessary to ensure their transition to Drake is a smooth and enjoyable one.
If you are interested in becoming an orientation leader, you can attend the last informational session on Wednesday, Jan. 29, at 6 p.m. in the Meredith 104.
Applications for this role are due Friday, Jan. 31. Read more about position or contact Marina Verlengia at marina.verlengia@drake.edu with any questions.
Send your best wishes to Professor Evans
At the April 25 SJMC centennial party we will also be celebrating the "matriculation" of electronic media Professor Todd Evans after 36 years at Drake! Evans is getting off the full-time-job hamster wheel to spend more well-deserved time with his wife and daughter. Send your thoughts, tears, memories and best wishes for Todd to Dean Kathleen Richardson (kathleen.richardson@drake.edu) for compilation.
Meredith Hall building hours
Meredith Hall is unlocked during the following hours when classes are in session:
Sunday-Sunday: 7:30 a.m.-9 p.m.
Monday-Friday: 7 a.m.-9:30 p.m.
Students with SJMC majors can swipe into the building with a Drake ID even when the building is locked from 7 a.m.-2 a.m., Sunday-Thursday. Students who are already in the building when it is automatically locked are allowed to stay in the building. Students who need 24/7 access to swipe into the building should talk to their faculty member or adviser about how to obtain all-hours access.
Have a news item for the Memo?
The SJMC Monday Memo is a weekly newsletter to keep members of the wider SJMC community updated on School news, achievements, events and opportunities. If you have an item for the Memo, please send it to Dean Kathleen Richardson (kathleen.richardson@drake.edu) or SJMC webmaster and multimedia professor Chris Snider (christopher.snider@drake.edu). SJMC alums and other professionals can also contact Chris to have the Memo delivered via weekly email.
The School of Journalism and Mass Communication strives to create a community of scholars that represents the complexity of the human experience in regards to race, ethnicity, sex, sexual orientation, economic status, political views, gender identification, religion, age and physical abilities. We are committed to creating a welcoming and supportive environment for all our faculty, staff, students and visitors, and celebrating our differences through the lens of the First Amendment value of freedom of expression.