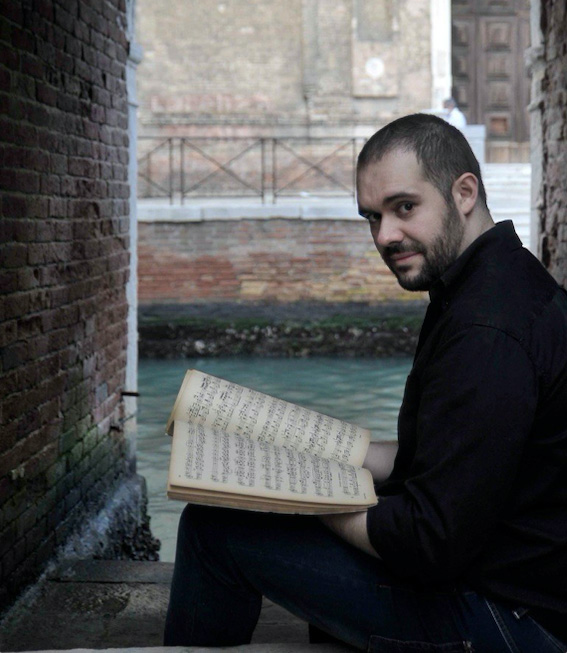 Italian pianist Mattia Ometto will present the upcoming concert of the 2019–2020 season for the Drake University Keys to Excellence Piano Series on Monday, Feb. 10, at 7:30 p.m. in Sheslow Auditorium. Admission is free. The performance will feature the following works by Franz Liszt, Claude Debussy, Mario Pagotto, and Nikolai Medtner. Ometto will also present a masterclass on Sunday, Feb. 9, at 2 p.m. in Sheslow Auditorium, which is free and open to the public.
Le mal du pays (from Années de pèlerinage), Franz Liszt (1811-1886)
Ballade in B minor, S. 171
From Preludes, Claude Debussy (1862-1918)
(…Danseuses de Delphes)
(…Brouillards)
(…Feuilles Mortes)
(…Ce qu'a vu le vent d'ouest)
Studi di pianura, Mario Pagotto (b. 1966)
Forgotten Melodies, Op. 39, Nikolai Medtner (1880-1951)
Meditation
Romanza
Primavera
Canzona Matinata
Sonata Tragica
About Mattia Ometto
"Mattia Ometto is a pianist with a marvelous sensitivity, one of those artists whose responsibility is to make audiences perceive what real talent is."

— Aldo Ciccolini, pianist, Paris
The winner of a vast array of national and international prize both in Europe and the United States, Ometto quickly established himself as an artist whose gifts hark back to the Golden Age of classical piano performance, gifts that reflect an artistry that is formed in equal parts by his Venetian background, the influence of his studies in Paris with the legendary Aldo Ciccolini, and in Palm Springs with the American virtuoso Earl Wild.
Ometto performs regularly in Europe and the United States. Following his recital debut in Paris at the Théatre du Rond Point des Champs Elysées and in New York City at Carnegie Hall, he appeared both in recital and as soloist with orchestra in New York (Carnegie Hall, Bargemusic), New Jersey, Des Moines (Sheslow Auditorium), Boston (Rivera Hall), Venice (Gran Teatro la Fenice), Berlin, in Los Angeles with the Lyric Symphony orchestra, in Ankara (Turkey) with Academic Baskent Orchestra, in Vidin (Bulgaria) with the Vidin State Philharmonic Orchestra, and in Padua (Italy) with the Orchestra di Padova e del Veneto. Ometto has also worked with renowned conductors such as Luigi Piovano, Maurizio Dini Ciacci, Charles Gambetta, and Ertug Korkmaz, just to name a few.
Broadcasts of Ometto's performances and interviews have been featured on numerous radio stations, such as BBC London, Kulturradio Berlin, Rai International, Radiotre, Raitrade, Radio della Svizzera Italiana, Radioclassica, Radio Romania, Iowa State Radio, Kanal B Ankara, and WGBH Boston.
His discography comprises the critically acclaimed recordings of the complete set of Melodies by César Franck and Henri Duparc (Brilliant Classics), Johannes Brahms' complete music for two pianos with Leonora Armellini (Da Vinci) and the World Premiere Recording of the complete music for two pianos and piano four-hands by Reynaldo Hahn recorded with the legendary pianist and Liszt scholar Leslie Howard (Melba Recordings, 2 CDs). Ometto and Howard are currently working on the recording of the Complete Music for two pianos by Franz Liszt (9CDs), the first part of which (The Symphonic Poems, 3 CDs) has been released to critical acclaim in September 2018. The releases in 2020 will include the second part of the Liszt project (The Symphonies, 3 CDs) and a live recording of Poulenc concerto for two pianos, again on the Brilliant Classics label.
Born in Padua in 1982, Ometto graduated summa cum laude from the Venice Conservatory of music where he studied with Anna Barutti. Very active also as a teacher, he gives master classes as a visiting artist at Drake University in Des Moines (Iowa), Redlands University, International Institute for Conductors in Vidin (Bulgaria), and Accademia della Musica in Padua.
Currently residing in Italy, Ometto is a professor at the "J. Tomadini" Conservatory in Udine and the "C. Pollini" Conservatory in Padua.
About Keys to Excellence Piano Series
Keys to Excellence Piano Series is supported by Yamaha, West Music, Civic Music Association, and Drake University Jordan Concerts. For more information, contact Nicholas Roth at 515-321-5947 or nicholas.roth@drake.edu.
SEPTEMBER 30: Robert Weirich– University of Missouri Kansas City (Emeritus)
OCTOBER 28: Carol lei Breckenridge – Central College (Emerita)
DECEMBER 2: Nicholas Roth – Drake University
FEBRUARY 10: Mattia Ometto – Tomadini Conservatory (Italy)
APRIL 6: Wei-Yi Yang – Yale University Canceled
APRIL 20: Nadia Weintraub– Israel Canceled
All performances begin at 7:30 p.m. in Sheslow Auditorium and are free and open to the public.