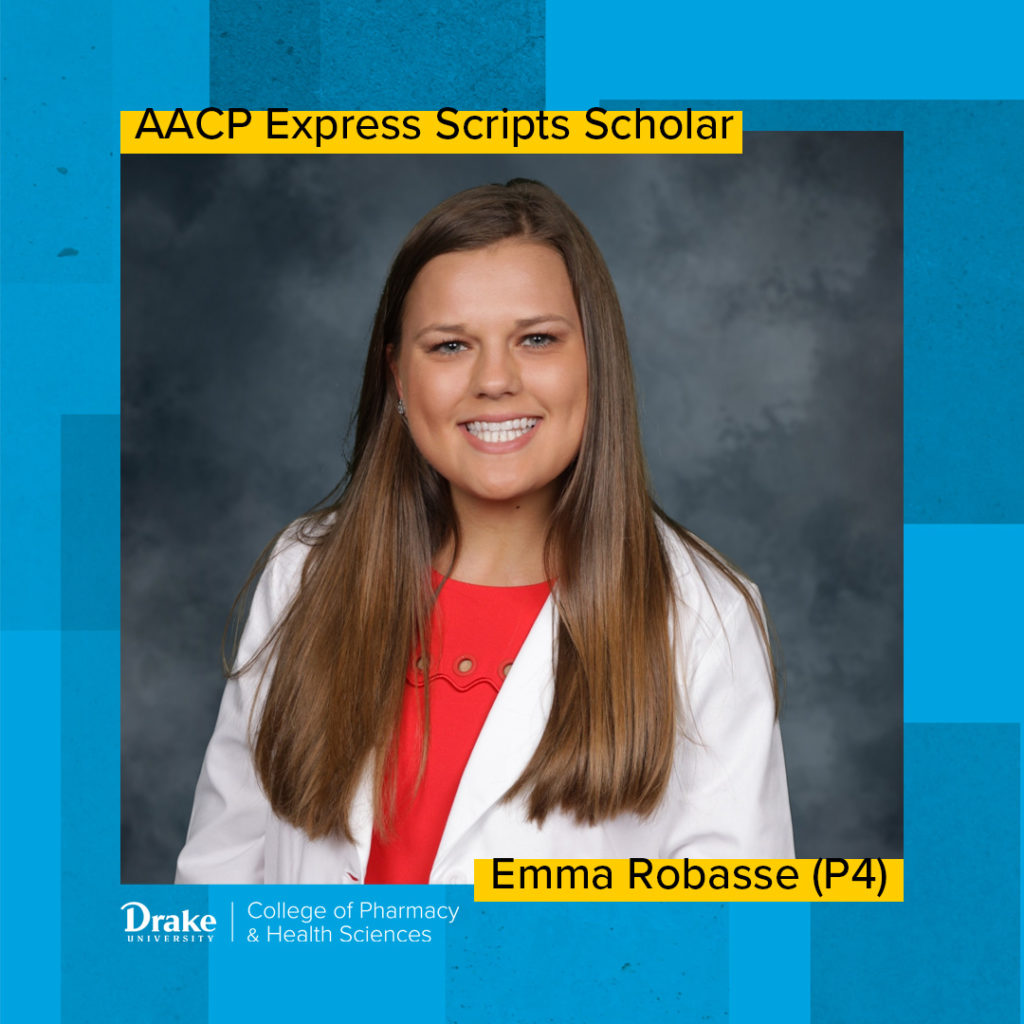 Emma Robasse, PharmD/MBA Candidate 2020 in the College of Pharmacy and Health Sciences (CPHS), is one of four dual-enrolled students nationwide to receive a 2019 Express Scripts Scholarship. The Express Scripts Foundation (ESF), in partnership with the American Association of Colleges of Pharmacy, awards four $10,000 scholarships to dual-degree students each year. The ESF recognizes that students interested in dual degrees may have increased financial need and provides these scholarships to offset tuition, fees, or books.
"Express Scripts is supporting me to pursue my career goals. I am deeply honored to receive their scholarship in my efforts toward my dual PharmD/MBA," said Robasse. "Drake's dual-degree program gave me the opportunity to explore the various paths a pharmacist can take in their career. Simultaneously taking classes in both pharmacy and business has helped me to think differently about my career, and the pharmaceutical and healthcare industries."
Similar to ESF, Drake University recognizes the importance of supporting students' diverse interests to help them reach their career goals. Drake CPHS dual-degree programs allow students to obtain a PharmD in conjunction with a Jurisprudence Doctorate, Master of Business Administration, Master of Public Administration, Master of Public Health, or Master of Science in Leadership Development in less time than it would take to pursue each degree separately. Students within the CPHS also have the opportunity to obtain a minor or concentration in Global and Comparative Public Health, Diabetes Care, Leadership Education and Development, Evidence-Based Healthcare, foreign languages, or a customized minor to match their aspirations.
"Medicine, business, technology, and law aren't individual industry sectors anymore. Pharmacy is just as much drug interaction and adverse effects as it is cost savings and pharmaceutical contracts," said Robasse. "My job as a pharmacist can't be done without having to weigh the cost-benefit analysis for each patient. Business guides how medicine functions in today's society."
"This scholarship recognizes Emma's hard work and her initiative in taking advantage of one of the many opportunities that Drake CPHS provides students." said Renae Chesnut, dean of the college. "Drake gives students the best of both worlds – a campus with a small feel and the opportunities of a large institution."
Drake CPHS prides itself on attracting faculty who provide students with individualized experiences and the specific tools needed to reach their goals. However, students still receive the opportunities of a larger institution with many degree combinations and extracurricular opportunities. Between abundant internship opportunities in the bustling Des Moines area, rotations spanning the whole country, residency and fellowship support, and international learning experiences, Drake CPHS students are not short of a diverse, experiential education.
"My Drake experience has led me to find my passion at the intersection of business and healthcare," said Robasse. "Drake's College of Pharmacy and Health Sciences instilled in me the passion and commitment necessary to be successful in my career. The professors are actively involved and engaged in the classroom and in mentoring students to discover their own path."