Jack Richards, a senior studying actuarial science in the College of Business and Public Administration, has been awarded $5,000 by the Casualty Actuarial Society (CAS) through the organization's 2019 Trust Scholarship Program. Jack has completed a total of three internships at Travelers Insurance, Farm Bureau Financial Services, and Deloitte Consulting. He is also a member of the Drake University Gamma Iota Sigma Chapter, of which he served as co-president in 2018 and the director of the Drake Symposium in 2018 and 2019.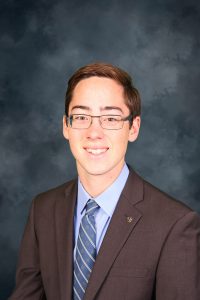 Each year, the Casualty Actuarial Society awards up to three actuarial science students a scholarship from the CAS Trust Scholarship. These scholarships are given in order to further students' interest in the property and casualty actuarial profession and encourage the pursuit of the CAS designations. The CAS Trust Scholarship Subcommittee reviews the candidates' academic records, two letters of recommendation, and an application essay. Candidates must be full time students, demonstrate high scholastic achievement, and have taken at least one actuarial exam.
"I am proud to be a recipient of the 2019 CAS Trust Scholarship Award," said Jack. "I've been amazed by the passion and volunteerism of the Casualty Actuarial Society, and I aspire to obtain my credentials and exemplify these values as a future actuary."
Richards, along with two other awardees, will be recognized in Honolulu, Hawaii at the 2019 CAS Annual Meeting November 10-13, 2019.
This is the third year in a row that a Drake University student has won a CAS Trust Scholarship. Only three students are chosen nationwide for the award each year. In 2018, Adam Lathan was a recipient, and in 2017, Kate McCoy was a recipient.
CAS is a leading international organization for credentialing and professional education. The organization focuses exclusively on property and casualty risks and has a total of 8,000 members worldwide. Its members are experts in property and casualty insurance, reinsurance, finance, risk management, and enterprise risk management.