2019 PR capstone work wins professional Best of Show
A campaign that the public relations seniors created for their capstone class last spring won top honors in the annual Public Relations Society of America Central Iowa PRIME Awards on Thursday. The student work for the Des Moines Water Works Park Foundation won both the Community Champion award and the Best of Show for nonprofits. Featured above with professor Kelly Bruhn, center, and the awards are (from left) 2019 graduates Jordan Apostolik, Caroline Hogan, Ellen Converse and Ellie Detweiler. Winning team members who are not pictured: Rebecca Perl, Shelby Starace, Grace Schofield and Ashley Blazek.
Drake students are finalists for national PR awards
Public relations seniors Kollin Crompton and Ellie Detweiler have been named finalists for the national PR News PR People annual awards. Crompton, who was youth coordinator for Iowa Gov. Kim Reynolds' campaign, is one of two finalists for Student of the Year. Detweiler, who interned at the Kennedy Center in D.C., is one of two finalists for Intern of the Year. This is the sixth year in a row that Drake has had a finalist in this contest. Winners will be announced at the annual PR People Awards Luncheon on Dec. 12 at the Georgetown Marriott in Washington, D.C.
Tirumala, co-author honored for research
Digital media production professor Lakshmi Tirumala and his co-author won the top prize in the academic research competition at the regional Broadcast Education Association conference in Boulder, CO, last week. Tirumala and co-author Norman Youngblood of Auburn University wrote a paper about local television news station compliance with online captioning rules. Tirumala's recent research has focused on media accessibility.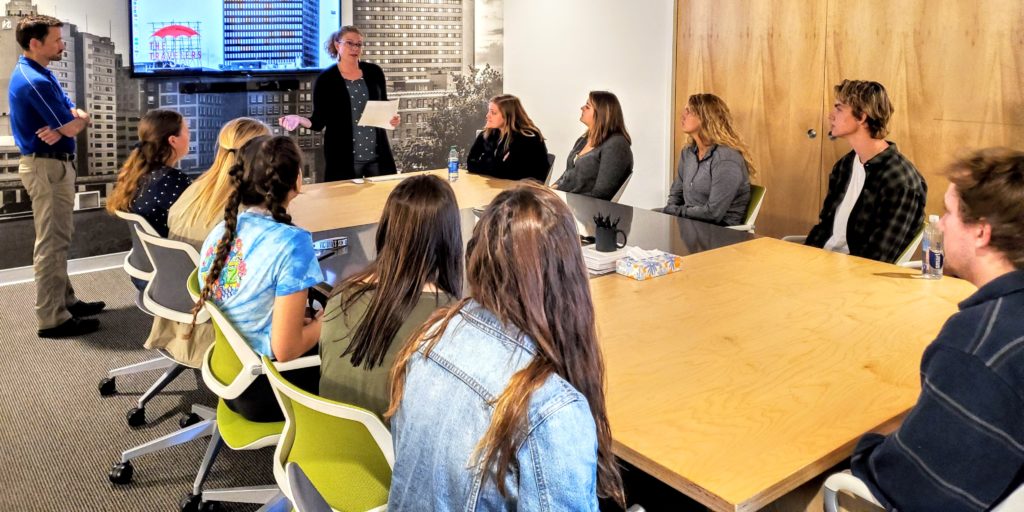 Ad class visits Trilix agency
Professor Dorothy Pisarski's J113 Concepts in Consumer Awareness class went to Trilix, a local marketing agency, last week to learn about the intricacies of communicating with different target audiences. The class got an agency tour before they departed. Hosts included Jason Wells, JO'04, left, and Megan Garrett.
Iowa Caucus Project hosts "Impeachment Dialogue"
The Iowa Caucus Project student group is hosting  a nonpartisan "Impeachment Dialogue" in the Library Reading Room on Wednesday, Oct. 16, 7-8 p.m. The students going to be diving deep into the process of impeachment and what to expect next, and participants should leave with a good understanding of the process and the ability to have a conversation about the ever-changing current events.
Annual JMC Days and Cool Jobs Expo the week of Oct. 21
Oh, the places you can go with a communications degree! SJMC alumni and friends with cool jobs will be featured at the third annual Cool Jobs Expo on Monday, Oct. 21, from 5-7 p.m. in (and near) Meredith Hall. The expo will feature a dozen employers presenting, in 15-minute drop-in sessions, about their work. Register in the Meredith Lobby starting at 4:30 p.m. Bring your business card to share with potential employers.
JMC Days, the week devoted to all things SJMC, will also feature daily snacks in Meredith Hall back lobby.
SJMC alum, screenwriter John August to speak
Screenwriter and novelist John August, JO'92, will deliver the Hawley Foundation Lecture on Thursday, Oct. 24, at 8 p.m. in Sussman Theater in the Olmsted Center.  His topic will be "Professionalism in the Age of the Influencer."
August's screenwriting credits include the live-action "Aladdin," "Go," "Frankenweenie," "Corpse Bride," "Charlie and the Chocolate Factory," and both "Charlie's Angels" movies. He received a 2004 BAFTA nomination for his screenplay for "Big Fish" and wrote the book for the Broadway musical version. He received a 2006 Grammy nomination for lyrics for "Wonka's Welcome Song."
August's middle-grade novel series, "Arlo Finch," is currently published in 13 languages, with the third book in the trilogy, "The Kingdom of Shadows," due out in February 2020.
He co-hosts the weekly "Scriptnotes" podcast with Craig Mazin, and runs the company that makes the popular screenwriting apps Highland 2 and Weekend Read. He also maintains a popular blog at JohnAugust.com, as well as websites like screenwriting.io aimed at supporting screenwriters. He's a member of the Academy and serves on the board of directors of the WGA West.
National Transfer Student Week celebrated Oct. 21-25
Drake will celebrate Transfer Student week Oct. 21-25:
Monday, Oct. 21, noon-2 p.m.: Olmsted Breezeway Snacks & Swag
Tuesday Oct. 22, 1-3 p.m.: Olmsted Breezeway Snacks & Swag
Wednesday, Oct. 23, 8:30-10:30 a.m.: Olmsted Breezeway Snacks & Swag
Wednesday, Oct. 23, 3-5 p.m.: Vision Boards in Pomerantz Conference Room (Olmsted)
Thursday, Oct. 24, 2 p.m.: "Manage Your Energy — Don't Burn Out" transfer workshop in 201 Cowles Library
Latest Drake SJMC podcast drops
We had some fun with Times-Delphic editor Rachel James and Drake Broadcasting System president Adam Heater on the latest episode of the Drake SJMC podcast.
Listen on your favorite podcast app or at this link: https://anchor.fm/…/Back-to-the-Feud-ture-with-Rachel-James…
Study abroad seminar to focus on the Holocaust
"Heritage and Holocaust," a summer 2020 study abroad seminar, was recently approved. The three-credit class, which will be led by SJMC advertising professor Dorothy Pisarski and Jarad Bernstein, Drake's director of communications, will travel to Germany and Poland, tracing the growth of Nazism. Participants will visit Munich, Nuremburg, Dresden, Wroclaw, Krakow and Warsaw, and see the former concentration camps of Dachau, Sachenburg, Gross-Rosen, Auschwitz and Birkenau. The group will depart the week after final exam week in the spring, and the trip will last two weeks. The faculty are applying for the Historical Foundations AOI. The course is cross-listed JMC and INTD.
Save-the-date: Happy hour for SJMC grad students, alums
Des Moines-area SJMC graduate students and alums are invited to a happy hour at Juniper Moon on Tuesday, Oct. 29, 4:30-6 p.m.
Centennial website devoted to SJMC history, alums
A website has been created to showcase the distinguished history and alumni of the School of Journalism and Mass Communication. Check out https://drakesjmc100.com for information about Our People, Places and Student Organizations. Listen to several alums' SJMC Stories and contribute your own! The site will be updated throughout the year with news, events, testimonials and information about our centennial party on April 25 during Drake Relays 2020.
Meredith Hall building hours
Meredith Hall is unlocked during the following hours when classes are in session:
Sunday-Sunday: 7:30 a.m.-9 p.m.
Monday-Friday: 7 a.m.-9:30 p.m.
Students with SJMC majors can swipe into the building with a Drake ID even when the building is locked from 7 a.m.-2 a.m., Sunday-Thursday. Students who are already in the building when it is automatically locked are allowed to stay in the building. Students who need 24/7 access to swipe into the building should talk to their faculty member or adviser about how to obtain all-hours access.
Have a news item for the Memo?
The SJMC Monday Memo is a weekly newsletter to keep members of the wider SJMC community updated on School news, achievements, events and opportunities. If you have an item for the Memo, please send it to Dean Kathleen Richardson (kathleen.richardson@drake.edu) or SJMC webmaster and multimedia professor Chris Snider (christopher.snider@drake.edu). SJMC alums and other professionals can also contact Chris to have the Memo delivered via weekly email.
The School of Journalism and Mass Communication strives to create a community of scholars that represents the complexity of the human experience in regards to race, ethnicity, sex, sexual orientation, economic status, political views, gender identification, religion, age and physical abilities. We are committed to creating a welcoming and supportive environment for all our faculty, staff, students and visitors, and celebrating our differences through the lens of the First Amendment value of freedom of expression.