Alums, prospective students talk politics
Approximately 40 Drake alumni and prospective students attended an SJMC centennial event in Chicago last week. "An Evening of Presidential Politics, Journalism and Drake" highlighted Drake's central role in the political circus that is the Iowa Caucuses every four years. The program included a discussion led by, from left, alums Clark Bell, JO'73, retired journalism programs director at the McCormick Foundation; political communication professor Jennifer Glover Konfrst, JO'96, GR'98, and CNN producer Glen Dacy, FA'84. The event was hosted at the studios of ABC7 by reporter John Garcia, JO'86, and producer Chris Parrish, JO'05.
New York Times rep to be on campus this week
Megan Heckerman, the newsroom talent and inclusion partner at The New York Times, will be on campus tomorrow, Tuesday, Oct. 8, to meet students and discuss internship and post-graduate opportunities at The Times. She will be speaking with three journalism classes at 12:30-2:20 p.m. in Mer. 101. However, all interested students in any major are invited to stop in for the discussion.
Annual JMC Days and Cool Jobs Expo the week of Oct. 21
Horses (yes, real horses), Griff (and other dogs), and more — oh my! — will be part of the showcase of alumni and friends with cool jobs featured at the third annual Cool Jobs Expo on Monday, Oct. 21, from 5-7 p.m. in (and near) Meredith Hall. Stop by the Olmsted parking lot for the horses.
Hosted by the School of Journalism and Mass Communication, the expo will feature a dozen employers presenting, in 15-minute drop-in sessions, what it took to get their cool job. Register in the Meredith Lobby starting at 4:30 p.m. Bring your business card and your camera (remember, Griff!)
Latest Drake SJMC podcast drops
We had some fun with Times-Delphic editor Rachel James and Drake Broadcasting System president Adam Heater on the latest episode of the Drake SJMC podcast.
Listen on your favorite podcast app or at this link: https://anchor.fm/…/Back-to-the-Feud-ture-with-Rachel-James…
News students cover naturalization ceremony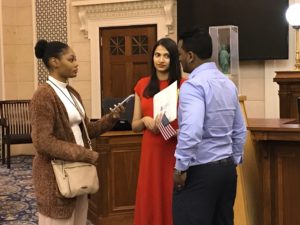 Students from JMC 103 Public Affairs Reporting went to the federal courthouse downtown on Friday to cover a naturalization ceremony, including interviewing the new U.S. citizens.
Professor Pisarski to co-lead study abroad seminar on the Holocaust
"Heritage and Holocaust," a summer 2020 study abroad seminar, was recently approved. The three-credit class, which will be led by SJMC advertising professor Dorothy Pisarski and Jarad Bernstein, Drake's director of communications, will travel to Germany and Poland, tracing the growth of Nazism. Participants will visit Munich, Nuremburg, Dresden, Wroclaw, Krakow and Warsaw, and see the former concentration camps of Dachau, Sachenburg, Gross-Rosen, Auschwitz and Birkenau. The group will depart the week after final exam week in the spring, and the trip will last two weeks. The faculty are applying for the Historical Foundations AOI. The course is cross-listed JMC and INTD.
Save-the-date: Happy hour for SJMC grad students, alums
Des Moines-area SJMC graduate students and alums are invited to a happy hour at Juniper Moon on Tuesday, Oct. 29, 4:30-6 p.m.
Learn data journalism and visualization with free tools
The Knight Center for Journalism in the Americas is offering a six-week online course where participants can "learn about an array of free tools that can help improve your work in data journalism and visualization." The course runs from Oct. 14 to Nov. 24.
Centennial website devoted to SJMC history, alums
Did you know that one of the first leaders of journalism education at Drake was pollster George Gallup? Do you remember Bulldog Tales, the all-campus variety show that SJMC students organized for years? A new website has been created to showcase the distinguished history and alumni of the School of Journalism and Mass Communication. Check out https://drakesjmc100.com for information about Our People, Places and Student Organizations. Listen to several alums' SJMC Stories and contribute your own! The site will be updated throughout the year with news, events, testimonials and information about our centennial party on April 25 during Drake Relays 2020.
Meredith Hall building hours
Meredith Hall is unlocked during the following hours when classes are in session:
Sunday-Sunday: 7:30 a.m.-9 p.m.
Monday-Friday: 7 a.m.-9:30 p.m.
Students with SJMC majors can swipe into the building with a Drake ID even when the building is locked from 7 a.m.-2 a.m., Sunday-Thursday. Students who are already in the building when it is automatically locked are allowed to stay in the building. Students who need 24/7 access to swipe into the building should talk to their faculty member or adviser about how to obtain all-hours access.
Have a news item for the Memo?
The SJMC Monday Memo is a weekly newsletter to keep members of the wider SJMC community updated on School news, achievements, events and opportunities. If you have an item for the Memo, please send it to Dean Kathleen Richardson (kathleen.richardson@drake.edu) or SJMC webmaster and multimedia professor Chris Snider (christopher.snider@drake.edu). SJMC alums and other professionals can also contact Chris to have the Memo delivered via weekly email.
The School of Journalism and Mass Communication strives to create a community of scholars that represents the complexity of the human experience in regards to race, ethnicity, sex, sexual orientation, economic status, political views, gender identification, religion, age and physical abilities. We are committed to creating a welcoming and supportive environment for all our faculty, staff, students and visitors, and celebrating our differences through the lens of the First Amendment value of freedom of expression.