SJMC history showcased in Cowles this semester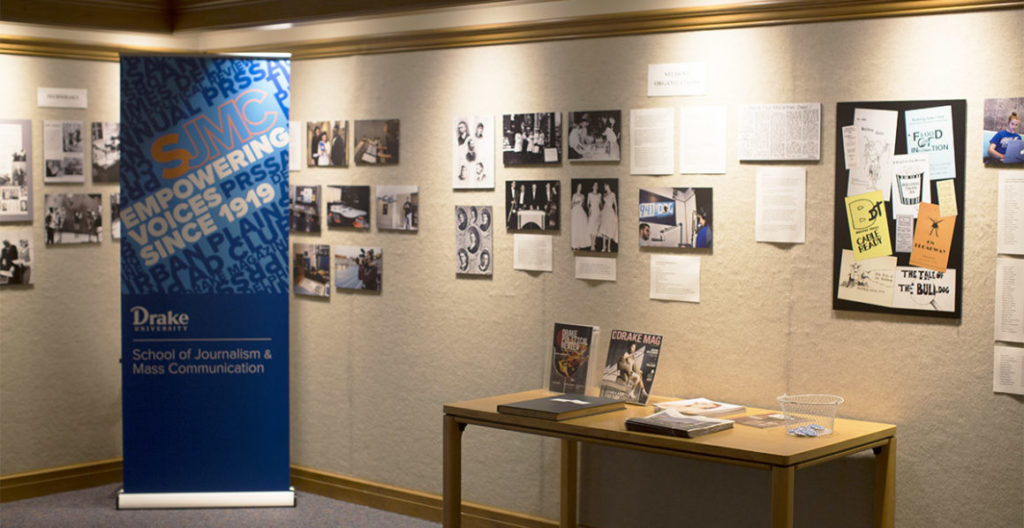 An exhibit celebrating the centennial of journalism education at Drake will be displayed in the Collier Heritage Room on the second floor of Cowles Library this semester. The exhibit tells about the people, places, programs and activities that have made the school special since 1919.
Get involved with Drake Mag
Interested in writing for Drake Magazine this fall? Join a brainstorming session on Tuesday, Sept. 10, 7-8 p.m. in Mer. 104 to pitch your ideas and get a first-hand look into the next issue.
Drake Magazine is still hiring. The magazine is looking for two first-year assistant editors to join the staff this year. If you're interested in writing/editing for an award-winning, student-produced publication now's your chance!
About the position:
The assistant editor is a first-year student with a strong work ethic and desire to get involved with a college publication. The assistant editors will attend bi-weekly editorial meetings and work with writers to help edit stories for each issue. Fact checking is also a responsibility of the assistant editor, and they will be required to learn how to properly fact check articles with the editor-in-chief throughout the year.
Two assistant editors will be hired, one for print and one for online. To apply, go tohttps://docs.google.com/document/d/1lWCbXWS4U58bV07g6WJ7R39RUoAInmgmTxS3QBAu-uM/edit?usp=sharing
Please contact EIC Madi Koetting (madi.koetting@drake.edu) for any questions/concerns. Applications are due by Wednesday, Sept. 4.
Activities Fair set for Wednesday
The campus Activities Fair is scheduled for Wednesday, Sept. 4, 3-6 p.m. in Upper Olmsted. Attendees can explore the range of opportunities available for student involvement:
https://www.drake.edu/studentinvolvement/studentorganizations/activitiesfair/
Alpha Kappa Psi professional fraternity recruitment
Join Alpha Kappa Psi during the organization's recruitment week Sept. 9-14. The fraternity is open to all majors, minors and concentrations on Drake's campus. It provides members professional experiences, service opportunities and brotherhood. Stop by Parent's Hall South anytime from 7-9:30 p.m. on Monday, Sept. 9 to learn more. Dress code is business casual. Questions? Email grace.lipscomb@drake.edu"
Apply to the Donald V. Adams Leadership Institute
The Donald V. Adams Leadership Institute (DVALI) is a leadership development program offered to all undergraduate students at Drake. Students who apply and are admitted to the Institute are given access to personalized leadership training, co-curricular skill development, and career preparation. All students admitted to the Institute complete a three-part leadership training series, designed to equip students with self-awareness, collaboration, and perspective-taking skills that are immediately applicable to their personal relationships, academic coursework, campus activities, and professional goals. In addition, DVALI students participate in a variety of annual events and activities offered exclusively to students in the Institute. This co-curricular leadership opportunity is available to students from all academic disciplines and majors at no additional cost thanks to the generous support of Drake alumni and friends of Dr. Donald V. Adams, Professor Emeritus. A full description of the DVALI leadership training series can be found atdrake.edu/leadershipinstitute. All three trainings meet weekly starting in week 5 of the semester, and are offered every fall and spring semester.
Apply online at bit.ly/DVALI19 by Sept. 15. Students accepted in to the Donald V. Adams Leadership Institute will be notified by Sept. 20, with the opportunity to start the DVALI training series as early as the fall 2019 semester.
Want to learn more?
Visit drake.edu/leadershipinstitute, or attend an upcoming Adams Leadership Institute information session:
Tuesday, Sept. 10 (4 or 4:30 p.m.)
Wednesday, Sept. 11 (12 or 12:30 p.m.)
Thursday, Sept. 12 (5 or 5:30 p.m.)
Friday, Sept. 13 (11 or 11:30 a.m.)
*All info sessions will be located in the Drake Room (2nd floor Olmsted Center)
Questions?
Contact Kristin Economos, Director of Student Leadership Programs, at kristin.economos@drake.edu
Anderson Gallery exhibit focuses on women
The Anderson Gallery in the Harmon Fine Arts Center will feature an exhibit on women's rights from Sept. 5-Oct. 18. The exhibition, "Women's Rights Are Human Rights" will highlight "international posters on gender-based inequality, violence and discrimination." The opening reception will be Thursday, Sept. 5, 5-7 p.m. The gallery is free and open to the public during the following hours:
Tuesday-Sunday, noon-4 p.m.
Thursday, noon-8 p.m.
Closed Monday
SJMC ad prof participates in ag education event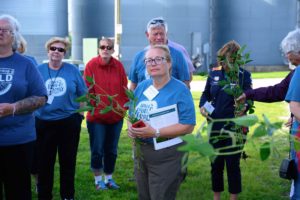 Advertising professor Dorothy Pisarski, a native New Yorker, at center in the photo, was invited to participate in Expedition Farm Country. This two-day event was designed to educate city dwellers about the life and business of agriculture in Iowa. Pisarski and her cohort toured dairy, pork, cattle, corn and soybean farms and several agribusinesses from Fort Dodge to Storm Lake to the northern state border.
On Painted Street looking for volunteers
OnPaintedStreet, the University's award-winning, student-led Instagram account, is looking for volunteers to run the account for a week. The application is here: https://forms.gle/nCz5K9r72avWyXpR6
Apply for a post-graduate Fulbright scholarship
Seniors who are interested in pursuing a post-graduate international Fulbright fellowship: It's not too early to be working on your application, which will be due the end of September. If you are interested in learning more about the Fulbright program, contact professor Eleanor Zeff at eleanor.zeff@drake.edu. Drake has historically been one of the top producers of Fulbright scholars in the nation. Six Drake students, including SJMC senior Ashley Blazek, were named Fulbright scholars in spring 2019.
Volunteer opportunities available for eating disorders walk
The National Eating Disorders Association (NEDA) Des Moines Walk is on Saturday, Sept. 28 from 9-11 a.m. at Gray's Lake – Christine Hensley Terrace (2101 Fleur Drive, Des Moines, IA 50315).
The Des Moines Walk will be a morning of raising awareness and funds for eating disorder programs, education outreach, and the support of individuals and families. Walkers and teams are needed to raise funds, and volunteers are also needed the day of the Walk. To register as either a Walker or Walker/Volunteer see https://nedawalk.org/register.
More information can be found at the Walk page (https://nedawalk.org/desmoines2019) and the Facebook page (https://www.facebook.com/events/365416147374384/).
Sign up for new Drake wifi network
ITS has launched eduroam (education roaming), a new wireless network at Drake. Faculty, staff, and students at any eduroam-participating institution can access the eduroam wireless network at over 1000 locations in over 100 countries.
The eduroam network will be replacing both DUStudent and DUFacStaff. DUStudent will be phased out on Sept. 13 and DUFacStaff will be phased out on Dec. 31, but we encourage you to switch to eduroam today. Log into eduroam using your Drake email address, rather than your Drake ID number. This ensures that your credentials are passed securely anywhere you connect to the eduroam network.
Learn more at www.drake.edu/its/eduroam/
Meredith Hall building hours
Meredith Hall is unlocked during the following hours when classes are in session:
Sunday-Sunday: 7:30 a.m.-9 p.m.
Monday-Friday: 7 a.m.-9:30 p.m.
Students with SJMC majors can swipe into the building with a Drake ID even when the building is locked from 7 a.m.-2 a.m., Sunday-Thursday. Students who are already in the building when it is automatically locked are allowed to stay in the building. Students who need 24/7 access to swipe into the building should talk to their faculty member or adviser about how to obtain all-hours access.
Have a news item for the Memo?
The SJMC Monday Memo is a weekly newsletter to keep members of the wider SJMC community updated on School news, achievements, events and opportunities. If you have an item for the Memo, please send it to Dean Kathleen Richardson (kathleen.richardson@drake.edu) or SJMC webmaster and multimedia professor Chris Snider (christopher.snider@drake.edu). SJMC alums and other professionals can also contact Chris to have the Memo delivered via weekly email.
The School of Journalism and Mass Communication strives to create a community of scholars that represents the complexity of the human experience in regards to race, ethnicity, sex, sexual orientation, economic status, political views, gender identification, religion, age and physical abilities. We are committed to creating a welcoming and supportive environment for all our faculty, staff, students and visitors, and celebrating our differences through the lens of the First Amendment value of freedom of expression.