SJMC faculty and staff welcome new students!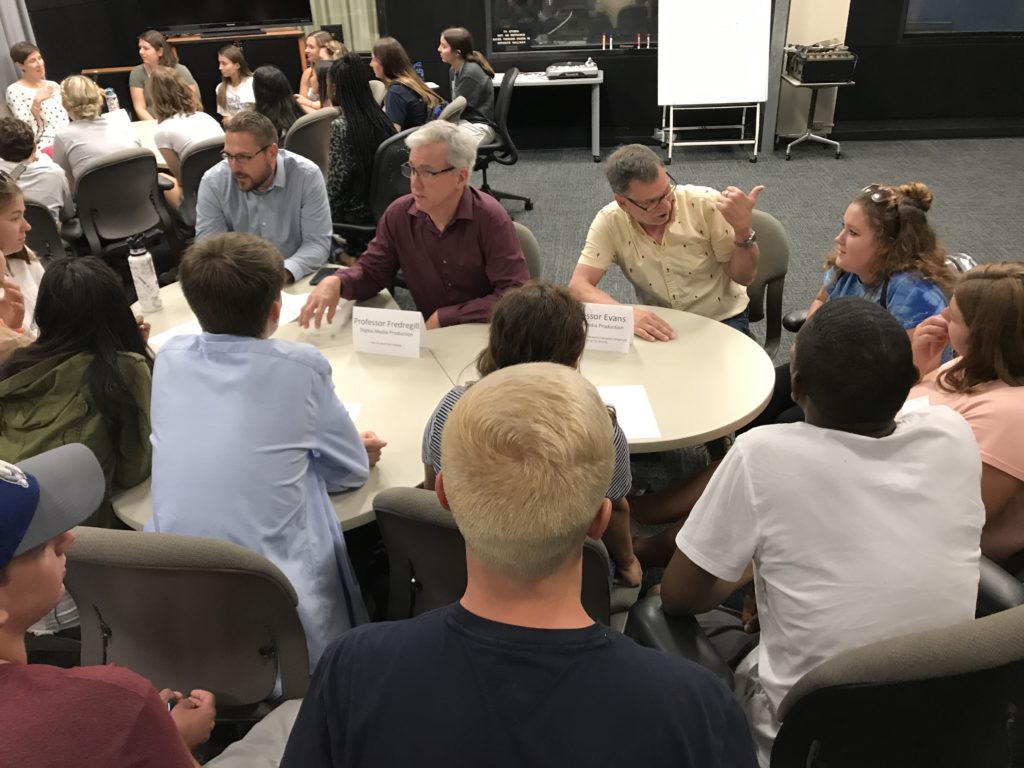 The faculty and staff held a "networking" session for fall 2019's entering class last week. The newly remodeled Meredith Hall TV studio was the venue for a speed networking event in which the students got to meet the faculty and ask them questions about their lives and careers.
Innovation Studio hosting open house
The Pappajohn Innovation Studio, a collaboration between the SJMC and the entrepreneurship program, is hosting a free print-your-own-T-shirt event and open house this afternoon, Monday, Aug. 26, 1-3 p.m. in the studio, Mer. 124C. Stop by to grab a snack and screen a T-shirt while they last.
Back-to-campus events
There are a slew of events this week to celebrate the beginning of the new school year on campus:
Monday, Aug. 26:
Snacks in various locations around campus, 7:30-9:30 a.m.
Summer games and pizza, Helmick Commons, hosted by campus faith communities, 5-7 p.m.
Free donuts and alcohol awareness education, Pomerantz Stage of Olmsted Center, 6-7 p.m.
Dogs for Democracy political engagement event, first-year residence hall lobbies, 7-8 p.m.
Tuesday, Aug. 27:
Ice cream social, Helmick Commons, 11 a.m.-2 p.m.
Resources Fair and Rec Fest, Helmick Commons, 3-5 p.m.
Mixers hosted by campus identity groups, Hubbell Dining Hall, 5-6 p.m.
Wednesday, Aug. 28:
Hurts Donuts, Olmsted Center breezeway, sponsored by Student Activities Board, 2 p.m.
Vision boards activity, Pomerantz Stage, 5-7 p.m.
Thursday, Aug. 29:
Welcome to Cowles Library, 5-7 p.m.
Friday, Aug. 30:
Iowa Cubs baseball game, hosted by Student Activities Board, buses start at 6:30 p.m.
Women's soccer game, Cownie Soccer Complex, 7 p.m.
Free Movie Friday, "Booksmart," Sussman Theater, 9 p.m.
Activities Fair set for Sept. 4
The campus Activities Fair is scheduled for Sept. 4, 3-6 p.m. in Upper Olmsted. It's an opportunity to see the range of opportunities available for student involvement:
https://www.drake.edu/studentinvolvement/studentorganizations/activitiesfair/
On Painted Street looking for volunteers
OnPaintedStreet, the University's award-winning, student-led Instagram account, is looking for volunteers to run the account for a week. The application is here: https://forms.gle/nCz5K9r72avWyXpR6
SJMC alums win social media awards
Drake associate director of communications and marketing Niki Jobst Smith, JO'08, GR'15, last week won first place for influencer campaign in this year's Hashie Awards, sponsored by the Des Moines Social Media Club. This award recognized outstanding work on @onpaintedstreet.
Danielle Rogers, JO'08, communications marketing manager for the City of Newton, IA, was named social media professional of the year — silver.
SJMC-sponsored climate change event on C-SPAN
The panel discussion on climate change at the Des Moines Science Center, co-sponsored earlier this month by Drake SJMC and SciLine/the American Association for the Advancement of Science, has debuted on C-SPAN: https://www.c-span.org/video/?462998-1/climate-change-states. The event was part of a "boot camp" for the nation's journalists on how to cover science issues in the presidential campaign that SJMC hosted.
Sign up for new Drake wifi network
ITS has launched eduroam (education roaming), a new wireless network at Drake. Faculty, staff, and students at any eduroam-participating institution can access the eduroam wireless network at over 1000 locations in over 100 countries.
The eduroam network will be replacing both DUStudent and DUFacStaff. DUStudent will be phased out on Sept. 13 and DUFacStaff will be phased out on Dec. 31, but we encourage you to switch to eduroam today. Log into eduroam using your Drake email address, rather than your Drake ID number. This ensures that your credentials are passed securely anywhere you connect to the eduroam network.
Learn more at www.drake.edu/its/eduroam/
Meredith Hall building hours
Meredith Hall is unlocked during the following hours when classes are in session:
Sunday: 7:30 a.m.-9 p.m.
Monday-Friday: 7 a.m.-9:30 p.m.
Saturday: 7:30 a.m.-5:30 p.m.
Students with SJMC majors can swipe into the building with a Drake ID even when the building is locked from 7 a.m.-2 a.m., Sunday-Thursday. Students who are already in the building when it is automatically locked are allowed to stay in the building. Students who need 24/7 access to swipe into the building should talk to their faculty member or adviser about how to obtain all-hours access.
Have a news item for the Memo?
The SJMC Monday Memo is a weekly newsletter to keep members of the wider SJMC community updated on School news, achievements, events and opportunities. If you have an item for the Memo, please send it to Dean Kathleen Richardson (kathleen.richardson@drake.edu) or SJMC webmaster and multimedia professor Chris Snider (christopher.snider@drake.edu). SJMC alums and other professionals can also contact Chris to have the Memo delivered via weekly email.
The School of Journalism and Mass Communication strives to create a community of scholars that represents the complexity of the human experience in regards to race, ethnicity, sex, sexual orientation, economic status, political views, gender identification, religion, age and physical abilities. We are committed to creating a welcoming and supportive environment for all our faculty, staff, students and visitors, and celebrating our differences through the lens of the First Amendment value of freedom of expression.