At the recent Kappa Psi Pharmaceutical Fraternity 59th Grand Council Convention in Washington D.C., Drake's Beta Chi chapter was again recognized for its leadership and professional involvement. As a chapter, Beta Chi was named #6 out of 144 chapters in the United States. In addition, several Beta Chi members were recognized.
Alex Maciejewski, a fourth-year student pharmacist and a previous chapter president, was elected to be the Collegiate Member at Large on the Kappa Psi Executive Board. As Collegiate Member-at-Large, Alex will serve as a leader for all Kappa Psi collegiate members by virtue of being the only student member of the Kappa Psi Executive Board.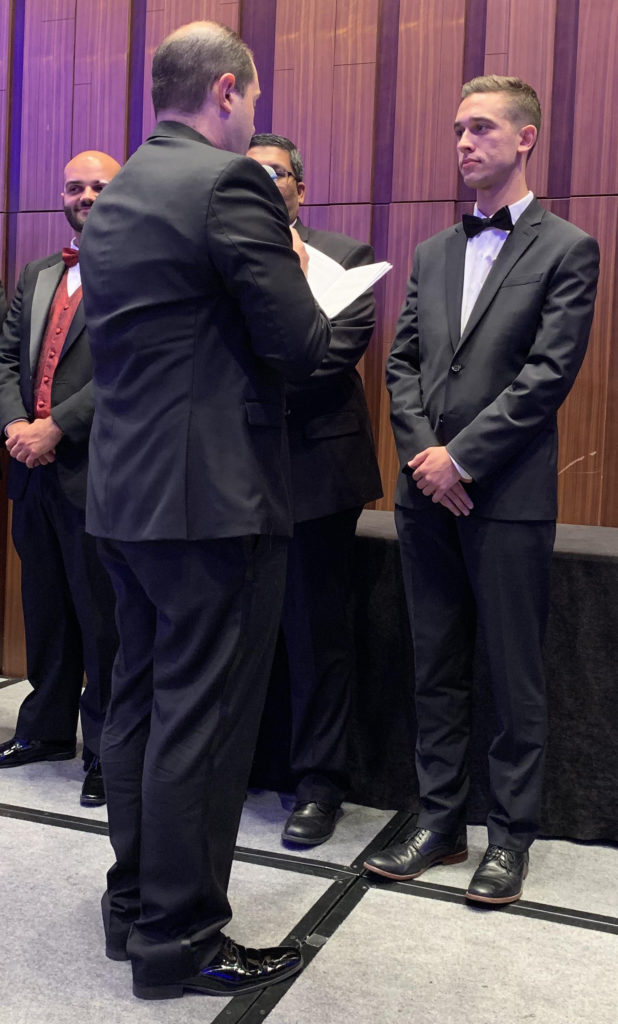 "The opportunity to serve the fraternity as the 2019-2021 Collegiate Member-at-Large for Kappa Psi Pharmaceutical Fraternity, Inc. is truly one of the greatest honors I could ever envision," Maciejewski said. "As a proud Brother of Kappa Psi, I am immensely excited to be able serve on the International Executive Committee for the next two years. As Collegiate Member-at-Large, I hope to continue to advance the vision of the fraternity by strengthening the collegiate experience through innovating various opportunities for leadership and professional development. This fraternity has shaped the person I am today, and nothing compares to the magnitude of the long-lasting friendships, mentors, and memories Kappa Psi has allowed me to make throughout the past 5 years."
In addition, Robert Schroeder, a rising third-year student pharmacist, was recognized as a recipient of a Kappa Psi Foundation Scholarship. This nationally competitive scholarship recognizes Kappa Psi members with professional involvement in Kappa Psi, outstanding career goals in pharmacy, and strong academic achievement.
"Kappa Psi Pharmaceutical Fraternity has enabled me to pursue my passion for pharmacy. I've been able to grow as a leader, a professional, and find amazing friends along the way," Schroder said. "Receiving this scholarship furthers my enthusiasm for Kappa Psi, and I hope to one day make an impact on others just how Kappa Psi has made an impact on my life."
"Congratulations to the Kappa Psi chapter on continuing their excellence at the national level," said Renae Chesnut, dean of the college. "These awards are evidence of the impactful leadership that our pharmacy program provides students. Unlimited opportunities combined with a supportive faculty and staff provide our students guidance as they achieve their goals."