Our Town: Reclaiming the Narrative—an exhibition curated by Lenore Metrick-Chen, professor of art and cultural history and students in her Black Americans and Photography course—is set to travel around Iowa this summer, fall, and winter. The exhibition is on display Sunday, Jun. 16, 2019 at Burlington, Iowa's 21st Annual Juneteenth Celebration. The exhibition is on display from 11 a.m.–4 p.m. at the Celebration located at DeEdwin & Gladys White Memorial Park, 400 block of Angular Street. The exhibition is then traveling to the Blanden Art Museum in Fort Dodge, Iowa from October through December. The Blanden Art Museum is located in the Historic Oak Hill District at 920 3rd Ave. S. Dates and times will be announced soon.
The exhibition celebrates the works of the many Black Americans in our community whose individual choices and agency has led them to civic engagement and community building, resulting in social change improving the lives of all inhabitants. The idea moving the exhibit is to gather stories and lives of people who are unsung and known only locally and create a pan-Iowa narrative–not one of white settlers and leaders but one that reclaims the stories of the contributions of Black citizens in improving lives here for all and who should be included in Iowan history. The objective for this exhibition in the upcoming years is for it to travel to venues across Iowa, both typical art venues and also non-traditional spaces, for instance YMCA's and libraries as well as museums and galleries. Wherever displayed, Our Town will gather local stories. Some of these stories will then be included at the next exhibition sites to which it travels. The exhibition will get larger and larger as it travels, acquiring more voices.
Our Town can only offer a sampling of these acts of agency and individual bravery, but it provides space to add to the exhibition and validate others, famous or obscure in the community, whose actions have made a difference. In this way, the exhibition helps retell the history of narrative of Iowa to include witnesses from the small but vital Black communities that have shaped our state.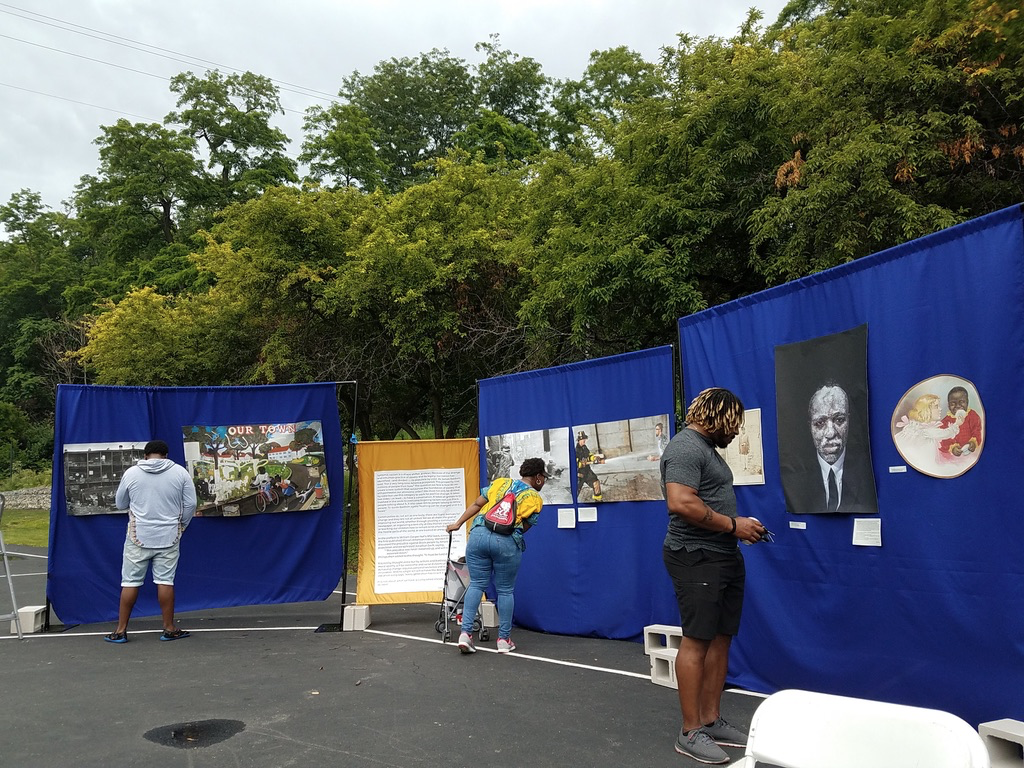 Our Town is an exhibition that aims to reframe history while simultaneously producing new understandings of the past and present. It offers a sampling of acts of agency and everyday bravery in Des Moines. The exhibition features short video interviews of local advocates including Dwana Bradley, editor-in-chief of The Urban Experience Magazine; Laural Clinton, community and racial justice activist; and Elaine Estes, former head of the Des Moines Public Library.
The exhibition also houses a smaller exhibition which contains eight pairs of artworks.
"These image pairings address the reclamation of one's agency," said Metrick-Chen. "They often turn images emblematic of oppression on their head."
To submit a request for the exhibition to travel to your site, contact Lenore Metrick-Chen at lmetrickchen@drake.edu.