Drake University College of Pharmacy & Health Sciences Assistant Professor Stacy Gnacinski has recently accepted a mental performance consulting appointment with the Olympic Winter Institute of Australia (OWIA). In her role, Gnacinski will be working alongside OWIA coaches and sports medicine staff to prepare athletes for achieving and maintaining peak performance on the world's stage. In early May, Gnacinski will be delivering two presentations on athlete Health, Happiness, and High performance at the H3 Summit event in Melbourne, Australia, to OWIA stakeholders. At various times throughout the year, Gnacinski will be traveling around the globe to consult at training camps and competition events.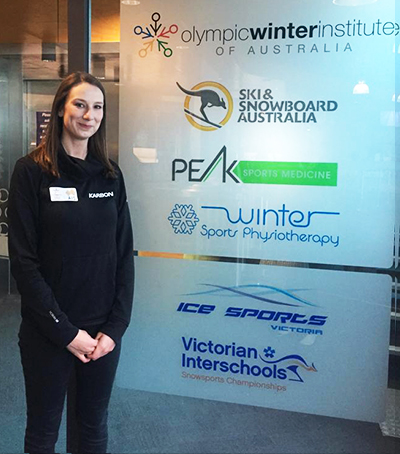 The applied knowledge gained from such international consulting experiences will only further enhance students' classroom and research experiences at Drake University. Gnacinski will be offering a new elective course in behavioral and sport psychology to athletic training master's and undergraduate health sciences students in Fall 2019. In this class, students will be able to study real-world stories to facilitate content retention, complex case studies to facilitate critical thinking, and interprofessional group projects to facilitate performance-oriented collaboration.
"By my professional philosophy, my work in the classroom, the research laboratory, and the sporting environment is continually and systematically complementary in nature," said Gnacinski. "The guidance I provide to Drake University students is truly analogous to that which I provide to Olympic athletes. It's about helping individuals and groups identify what it will take—mentally, physically, technically—to achieve performance excellence, developing self-regulation and/or other required mental skills, and supporting them during the ups and downs of that journey."
Likewise, her work with the Olympic team will continue to inform her applied research regarding the psychological aspects of recovery in elite athletes as well as licensed or credentialed health care professionals.
Gnacinski shared, "For me, being able to do this kind of work at Drake University and on the international stage is a professional dream come true."