You can't spell "Beautiful" without "Beau." The three-year-old Bulldog from Urbandale took the crown in the 40th annual Beautiful Bulldog Contest presented by Sammons Financial Group. The English bulldog won the judges over with his winning personality, easygoing temperament, and beautiful appearance. His owners, TJ and Angela McKenzie and three children were all proudly showing off their Drake blue when Beau took the crown.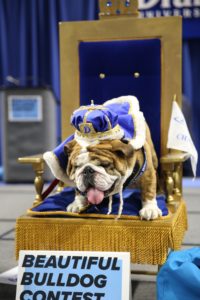 "We're so excited to be a part of this. We were surprised when he won, and we're deeply honored," TJ McKenzie said.
The McKenzie family is a true Drake legacy family. Both TJ and Angela are alumni as well as both sets of their parents. Many of their cousins, uncles, and other family members also have Drake degrees. Going back a few generations, TJ's grandfather was a professor of journalism and assistant to the dean in the J-School. TJ has also attended almost every Relays since his dad first started taking him when he was in elementary school.
Beau's crown has initiated him as another true-blue McKenzie. TJ describes his dog as easygoing and an all-around good guy, which was noticed by the judges.
"He was just hands-down the best bulldog out there," said judge Aliou Keita, a Drake alumnus.
His fellow judge Nadia Valentine chose him for his "squishy" appearance. Beau was crowned in front of 3,000 spectators.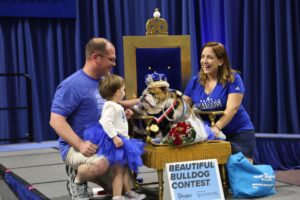 Angela McKenzie said her Beau loves short walks and long naps. He is a bulldog after Griff's own heart, as he is always hunting for food scraps in between his naps. His favorite foods are peanut butter, pizza crust, and grilled salmon.
He beat out the Facebook's choice, Watson, who cruised onto the stage in his red remote-controlled convertible and into second place as first runner-up. Second runner-up was Stella Rose, who also snagged the Drake Spirit Award in her glittery Drake outfit.
Other winners include Sparkle, who won the Congeniality Award, GiGi, who won Family Theme in her Wolfgang Pup getup that matched her owner's Wolfgang Puck outfit, and Stella, who won Rescue Dog. Audience-favorite Goose won the Porterhouse Choice Award.
Drake's official live bulldog mascot, Griff, held a fourth-annual Griff Gives Back pet food drive in conjunction with the contest. The initiative raised more than 13,000 pounds of adult dog and cat food for Pet Project Midwest, a central Iowa nonprofit organization that helps keep pets out of shelters.