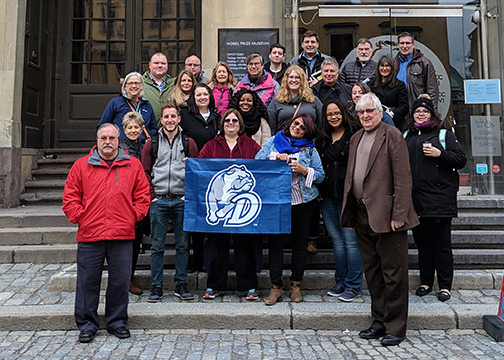 On March 13, a group of nine College of Business and Public Administration graduate students boarded a plane to Berlin, Germany for a three-week European tour to study international conflict management. The students were joined on the tour by alumni, community members, and the faculty leading the course, Thomas F. Sheehan Distinguished Professor of Public Administration, Dr. C.K. Meyer and Richard Tucker.
The class traveled to numerous cities during their trip including: Berlin, Germany; Stockholm, Sweden, Copenhagen, Denmark; Hannover, Germany; Amsterdam, The Netherlands; London, England; and Paris, France.
Throughout their travels, the class met with groundbreaking nonprofits, researchers, city planners, diversity specialists, and government leaders. These meetings sparked conversations on racial equality, city gentrification, immigration, government control, and environmental sustainability. The entire goal of the course is to examine ways the other cultures navigate conflict in order to teach the next generation of world leaders and change-seekers to overcome conflict on a global scale.
For more than 20 years, Drake University's Master of Public Administration program has taken an annual trip abroad to discuss a specific topic, even being honored with the International Green Apple Award by the British House of Parliament. Similar to an MBA, the MPA teaches the ins and outs of running an organization. It focuses on managing nonprofits, government positions, or any public group, making it a versatile master's degree.
To learn more about Drake's MPA, visit www.drake.edu/mpa. Courses are available on-campus and online.