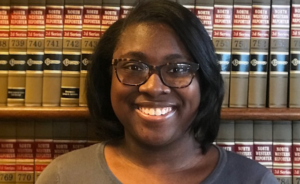 Drake student Shameka Brown has been selected as a national Newman Civic Fellow for 2019–2020. She joins 262 students from across the U.S. for this year's cohort.
The Newman Civic Fellowship is a one-year fellowship for community-committed college students from Campus Compact member institutions. The fellowship honors the late Frank Newman, one of Campus Compact's founders, who was a tireless advocate for civic engagement in higher education.
"Drake University and the State of Iowa are fortunate to have Shameka focusing time and energy on these important topics," said Drake University President Marty Martin in his nomination letter. "There is no doubt that she will continue to take the foundations and passions with her once she graduates from Drake."
Brown is a junior at Drake University, studying sociology and African American/African diaspora studies. For the last few years, she has worked in the community and with nonprofit organizations to advocate and increase the efforts of educational opportunities for high school and college students. She is currently working with the Iowa Department of Human Rights and local community members to help provide educational resources and opportunities to help students of color succeed academically.
"I first became involved in addressing issues of educational inequalities at an early age by working at a summer nonprofit organization that worked with at-risk youth of color," said Brown. "As I got older, I became more involved in addressing issues regarding the lack of educational opportunities and the correct representation for Black and Brown youth. I came to understand how low educational achievement could lead to lowered economic prospects later in life, perpetuating a lack of social mobility."
Through the fellowship, Campus Compact provides a variety of learning and networking opportunities emphasizing personal, professional, and civic growth. The fellowship also provides pathways to apply for scholarships and post-graduate opportunities.
"We are proud to recognize each of these extraordinary student leaders and thrilled to have the opportunity to engage with them," said Andrew Seligsohn, president of Campus Compact. "The stories of this year's Newman Civic Fellows make clear that they are committed to finding solutions to pressing problems in their communities and beyond. That is what Campus Compact is about, and it's what our country and our world desperately need."
Read Brown's full personal statement here.