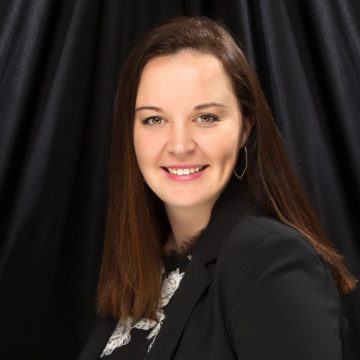 Jennifer Pithan, now a 3L, made it her mission to experience everything she could while at Drake Law School. Her experiences ultimately led her to discover her passion—elder law.
"Interning at a variety of places was beneficial for me," says Pithan. "I wanted to access as much information and experience as much as I could so I would be sure of what I wanted to do after graduating."
Pithan originally considered attending nursing school after completing her undergraduate studies in political science and international relations at the University of Iowa. Instead, her aspirations in those fields, coupled with her membership in a pre-law fraternity, led her to apply to Drake Law School.
Following her first year of law school, Pithan interned at Iowa Legal Aid, a nonprofit organization dedicated to providing critical legal assistance to low-income and vulnerable Iowans. The range of services provided by Iowa Legal Aid gave her an early start on exploring potential career paths.
"I got to experience so many different types of law, which was really valuable exposure as a 1L," says Pithan. "The elder law aid offered by the organization particularly sparked my interest."
With this new direction in mind, Pithan secured an internship with probate court Judge Craig Block (LW'81) of Iowa District 5C. Working alongside the judge, she saw firsthand the practical application of law concepts she learned about in her courses at Drake Law.
"I was taking a Wills and Trusts course at the time," explains Pithan. "We would talk about an issue in class, and I would see the real thing unfold in court the same day."
Continuing to pursue her newfound track, she sought out further opportunities to apply her classroom knowledge to real-world situations and joined Drake's Elder Law Clinic. The clinic provides legal assistance to clients over 60 years of age. Students who participate in the clinic take on much of the responsibility for serving the client's needs, giving Pithan the perfect platform to take a more active role in legal proceedings.
As she took on cases from seniors in the Des Moines area, Pithan discovered the proactive nature of elder law.
"It's very different from something like criminal law, where you address a problem after it happens," says Pithan. "In elder law, you plan for what could happen and try to prevent it."
Today, Pithan works in the trust department at Iowa State Bank, applying the knowledge of estate planning and probate work she gained through her previous internships. After a year in the position, she is confident that elder law is the right path for her—a conclusion she attributes to her experiences at Drake Law.
"I'm glad to have gained professional experience in numerous capacities and see elder law from every angle," reflects Pithan. "Drake made it so easy for me to tailor my education to pursuing that."