National pharmacy leaders, Eugene (Gene), PH'66, and Susan, PH'68, Lutz of Altoona, Iowa have been selected to receive the 2019 Lawrence C. and Delores M. Weaver Medal of Honor, the highest honor given by Drake University's College of Pharmacy and Health Sciences (CPHS). The Lutzes will receive the award and deliver the 2019 Weaver Medal of Honor Lecture at 2 p.m. Wednesday, April 24, in Sheslow Auditorium at Drake University.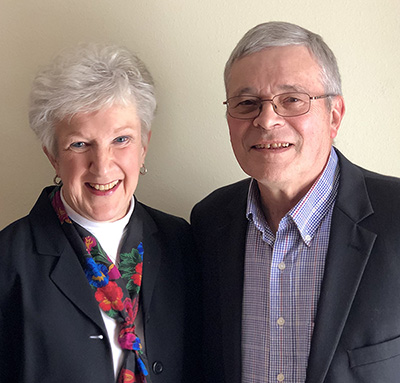 The Weaver Medal of Honor recognizes an individual's dedication to making a substantial impact on the profession of pharmacy and the advancement of human health. It is presented annually to a recipient who has fulfilled one of the following criteria: the individual's efforts have advanced the education, research, or outreach mission of the college for the benefit of human health; the individual has made a substantial impact on the profession of pharmacy; or the individual has provided to the college significant financial support that has funded strategic change and progress. The award is made possible by a generous gift from Lawrence Weaver, PH'49, and his wife, Delores.
Eugene and Susan Lutz have a long-standing record of serving the pharmacy profession and their community. They owned and operated Lutz Pharmacy and Lutz Long Term Care Pharmacy in Altoona for 38 years, and now co-own Lutz Pharmacist Services, a consulting and relief pharmacist firm.
The Lutzes are both past presidents of the Iowa Pharmacy Association (IPA) and have been inducted as APhA (American Pharmacists Association) Fellows. They have both received the IPA Bowl of Hygeia, the College's Alumni Achievement Award, and the Altoona Chamber of Commerce's Bill Newell Award.  
Gene Lutz is a past president of APhA, a previous vice president of the Christian Pharmacists Fellowship International (CPFI), and an executive committee member of the Community Pharmacy Section of the Federation of International Pharmacy (FIP). 
Susan Lutz helped develop the Iowa Pharmacy Recovery Network and has served as Secretary of CPFI. After serving for six years on the Iowa Board of Pharmacy Examiners, she joined the NAPLEX Review Committee and has served for more than 30 years. Her honors include the APhA Academy of Pharmacy Practice and Management (APPM) Merit Award, NABP's Lester E. Hosto Award, and Mosaic's 2018 National Volunteer of the Year Award. 
"It is an honor to award Gene and Susan the 2019 Weaver Medal of Honor," said Renae Chesnut, dean of the college of pharmacy and health sciences. "They have both made a substantial impact on the pharmacy profession, their community, and our College of Pharmacy and Health Sciences."
RSVP to attend the lecture here. For more information on past recipients of the Weaver Medal of Honor, please visit the CPHS website.