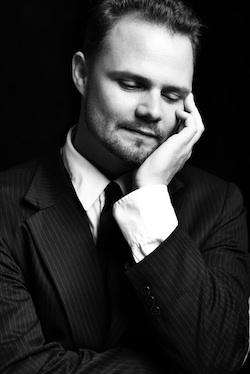 Dr. Thomas Rosenkranz, area coordinator of the Keyboard Division and associate professor of piano at the University of Missouri-Kansas City Conservatory of Music and Dance (UMKC), will present the next concert in Drake University's Keys to Excellence Piano Series on Monday, March 25, at 7:30 p.m. in Sheslow Auditorium. Admission is free and open to the public. The performance will feature the following works:
Thomas Rosenkranz: Improvisations on a theme by Beethoven
Nicole Lizée: Hitchcock Etudes for piano, soundtrack and video
Frederic Rzewski: The People United Will Never Be Defeated! – 36 variations on "¡El pueblo unido jamás será vencido!"
Dr. Rosenkranz will also offer a free interactive lecture and demonstration workshop on improvisation with Drake students on Sunday, March 24, at 2 p.m. in Sheslow Auditorium, which is open to the public.
KEYS TO EXCELLENCE PIANO SERIES 2018-19:
OCTOBER 8: Silvan Negrutiu – Millikin University
NOVEMBER 26: Nicholas Roth – Drake University
FEBRUARY 11: Quentin Kim – Pusan National University (South Korea)
MARCH 25: Thomas Rosenkranz – University of Missouri Kansas City
APRIL 29: James Giles – Northwestern University
About the Artist
Dr. Rosenkranz regularly performs in important musical centers in America, Europe, Africa, and Asia. Recent tours have taken him to the Lincoln Center Festival, Shanghai New Music Week, Hong Kong Modern Academy, Vianden (Luxembourg), MusicARTE (Panama), and the Octobre Musicale and International Festival of Carthage (Tunisia).
He has been a soloist with the Indianapolis Philharmonic, National Orchestra of Lebanon, and the Sichuan Philharmonic (China) among others. He twice served as cultural ambassador on behalf of the United States Department of State traveling to Tunisia and Lebanon. He was the recipient of the Classical Fellowship Award from the American Pianists Association. He is currently the co-director of the Maccagno Piano Days Festival and Competition in Italy and serves on the Amalfi Coast Festival.
With an eclectic repertoire encompassing the solo and chamber music literatures, Dr. Rosenkranz is equally at home in the classics as in the music of our time.
His latest recording on Oberlin Records, Toward the Curve, features commissioned works for piano and electronics alongside his solo improvisations. Other notable recordings include the premiere recording of Paul Lansky's Textures on Bridge Records and Music for 18 Musicians by Steve Reich with Ensemble Signal on Harmonia Mundi (France). He has been a member of the artist faculty at the soundSCAPE Festival in Italy since 2006, where he leads courses in contemporary music and improvisation.
Dr. Rosenkranz regularly gives master classes at China's leading institutions including the Shanghai, Sichuan, Xinghai, Xian, Shenyang, and Zheijiang Conservatories and others including the Taipei School for the Arts, Tunghai University (Taiwan), Mahidol University (Thailand), New York University, Princeton University, University of California at San Diego, Eastman School of Music, and the Interlochen Arts Academy. He served as a visiting professor of piano at the Oberlin Conservatory of Music during 2017. Dr. Rosenkranz served as an associate professor of piano and coordinator of the piano program at the College of Music Arts at Bowling Green State University from 2008–2018 and the University of Hawaii at Manoa from 2005–2008.
He regularly serves on the jury panels for the Shanghai Spring Festival Competition and the Sichuan Golden Bell Competition (China). Dr. Rosenkranz studied with Nelita True at the Eastman School of Music and with Robert Shannon at the Oberlin Conservatory of Music. He received career assistance from the Presser Foundation for study with the legendary French pianist, Yvonne Loriod-Messiaen, in Paris.
About the series
Keys to Excellence Piano Series was created to raise awareness of Drake's fundraising efforts for 70 new Yamaha pianos for the music department. It brings internationally acclaimed artists to perform on the Yamaha CFX concert grand at Drake University. The series is supported by Yamaha, West Music, Civic Music Association, and Drake University. For more information, contact Nicholas Roth at 515-321-5947 or nicholas.roth@drake.edu.