Meredith Hall hosts artwork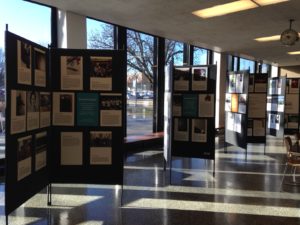 Meredith Hall is hosting art exhibits in the front and back lobbies during January Term.
Photos by area high school students grace the front lobby, thanks to an exhibit by CultureALL, a local group that encourages diversity in cultural programming in central Iowa.
Papier-mache sculptures of endangered birds perch in the back lobby near the atrium, the capstone project for one of associate professor Angela Battle's fall 2018 art classes.
SJMC alumna finalist for YP award
Danielle Rogers, JO'08, community marketing manager for the city of Newton, Iowa, has been named a finalist for the 2018 Ashley Okland Community Service Award. The award is among the honors chosen annually by the Des Moines Register and the Young Professionals Connection to recognize "the young professionals who dedicate their time to improving the livelihood of the central Iowa community."
The winners in three categories will be determined by the votes of both the public and a panel of judges. The public can vote at YP.DesMoinesRegister.com until Jan. 21. The winners will be announced at the 2018 YP of the Year Awards ceremony, presented
by Bankers Trust at 6- 9 p.m. on Thursday, Feb. 28 at Hilton Des Moines Downtown. Tickets are $25  and can be purchased at DesMoinesRegister.com/YP18.
SJMC profs lead J Term travel seminars
In addition to the on-campus January Term classes, two SJMC professors are leading travel seminars this month. Advertising professor Dorothy Pisarski is traveling in Chile with actuarial science professor Paul Judd and a group of students studying the business and culture of that country. Read about their adventures here:
https://duchilejterm2019.home.blog/
https://justchill-ean.home.blog/2019/01/11/bulldogs-embark-on-a-new-challenge/
https://jtermchile2019.home.blog/
News professor Jill Van Wyke and politics professor Rachel Paine Caufield are on a post-midterm-elections trip to Washington, D.C., with their class https://drakeindc.com/
Meredith Hall building hours
Meredith Hall is unlocked during the following hours when classes are in session:
Sunday: 7:30 a.m.-9 p.m.
Monday-Friday: 7 a.m.-9:30 p.m.
Saturday: 7:30 a.m.-5:30 p.m.
Students with SJMC majors can swipe into the building with a Drake ID even when the building is locked from 7 a.m.-2 a.m., Sunday-Thursday. Students who are already in the building when it is automatically locked are allowed to stay in the building. Students who need 24/7 access to swipe into the building should talk to their faculty member or adviser about how to obtain all-hours access.
Have a news item for the Memo?
The SJMC Monday Memo is a weekly newsletter to keep members of the wider SJMC community updated on School news, achievements, events and opportunities. If you have an item for the Memo, please send it to Dean Kathleen Richardson (kathleen.richardson@drake.edu) or SJMC webmaster and multimedia professor Chris Snider (christopher.snider@drake.edu). SJMC alums and other professionals can also contact Chris to have the Memo delivered via weekly email.
The School of Journalism and Mass Communication strives to create a community of scholars that represents the complexity of the human experience in regards to race, ethnicity, sex, sexual orientation, economic status, political views, gender identification, religion, age and physical abilities. We are committed to creating a welcoming and supportive environment for all our faculty, staff, students and visitors, and celebrating our differences through the lens of the First Amendment value of freedom of expression.