To many, it's the most wonderful time of the year. To others spending the month of December in and out of the hospital, a little generosity of spirit goes a long way to make the holidays less stressful.
For the 18th time in 20 years, the College of Pharmacy and Health Sciences has decorated a tree for the Festival of Trees and Lights. This is a special event that not only raises money for the Child Life and Advocacy and Outreach programs at Blank Children's Hospital, but often allows patient families at Blank to receive a donated, decorated tree.
As with previous years, Dean Renae Chesnut rallied a group of CPHS pharmacy students to gather, listen to holiday music, and adorn the CPHS tree. The CPHS tree was decked out in a "How sweet it is!" theme, complete with red and white striped bows and ribbons, ornaments, and candy canes. This year's team consisted of Maia Determan, P2, and P3 students Kendra Ford, Kara Metowski, and Eddie Mueller.
"The Festival of Trees and Lights is a wonderful event that allows our college to give back to the community and make a difference in the lives of others," said Renae Chesnut, dean and professor of the college of pharmacy and health sciences. "Participating in events like this fit well with our vision of leading the way to a healthy world."
"I loved every second of being there! It was a great way to get in the holiday spirit," Kendra Ford said. "As we walked out, I was amazed at the creativity of the other trees. I could only imagine how magical it would look once all the trees were decorated and lit up!"
If the event wasn't special enough, the students soon found out their tree was selected by Blank Children's Hospital donor Brown-Winick Law Firm who had contributed over $1000 to the Festival. Brown-Winick gifted the tree to the Back family. Bailee Back was diagnosed with Cystic Fibrosis at 12 days old. She is now 4.5 years old, & she has been hospitalized nearly 20 times.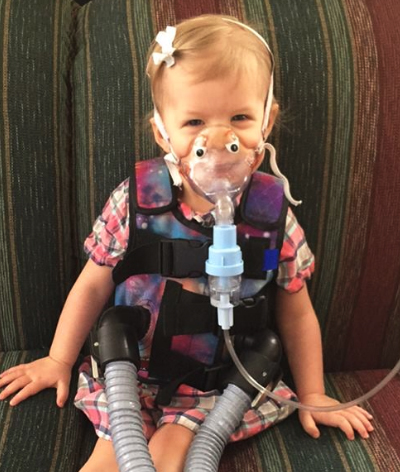 "I was excited to hear that it would be donated to such a deserving family," Ford said. "Knowing this family would probably not have tree decorating as a priority gave me a sense of pride that I was able to take something off their plate and make sure they had a decorated tree this time of year."
Bailee's mother, Addie Back, said she is thankful for events like Festival of Trees and Lights that fund services like Child Life, and she is also grateful for their family and friends' love and support.
"It means a lot. Child Life has made clinic visits, ER visits, surgeries, and even hospital stays so much easier. From new apps on the iPads while Bailee gets her port flushed to bringing toys to her room," Back said. "They provide spot on education for the children and family."
Back said they are hopeful for the future and are planning on spending family time doing some of Bailee's favorite things this month, like opening presents and driving around looking at the holiday lights.
"We are looking forward to seeing what comes down the pipeline for Cystic Fibrosis advancements and hopefully better health. Bailee is mostly looking forward to starting kindergarten and riding her first roller coaster!"
To donate to Bailee's fight against Cystic Fibrosis through the next Great Strides Walk, please click here.