The Evolution of the Bulldog
We all have a special place in our hearts for Bulldogs, but did you know that Drake University has a live mascot in addition to our traditional mascot? And how exactly does the Beautiful Bulldog Contest winner fit into the equation? Well, we're here to clarify how there's room for all of these pups in our hearts.
Griff: The dog. The myth. The legend. Griff has been Drake's official live-mascot since May of 2015. He is what's known as a "finished champion" in the show dog circuit, but his career in the spotlight is far from over. He was primed for the limelight as Drake's furry ambassador.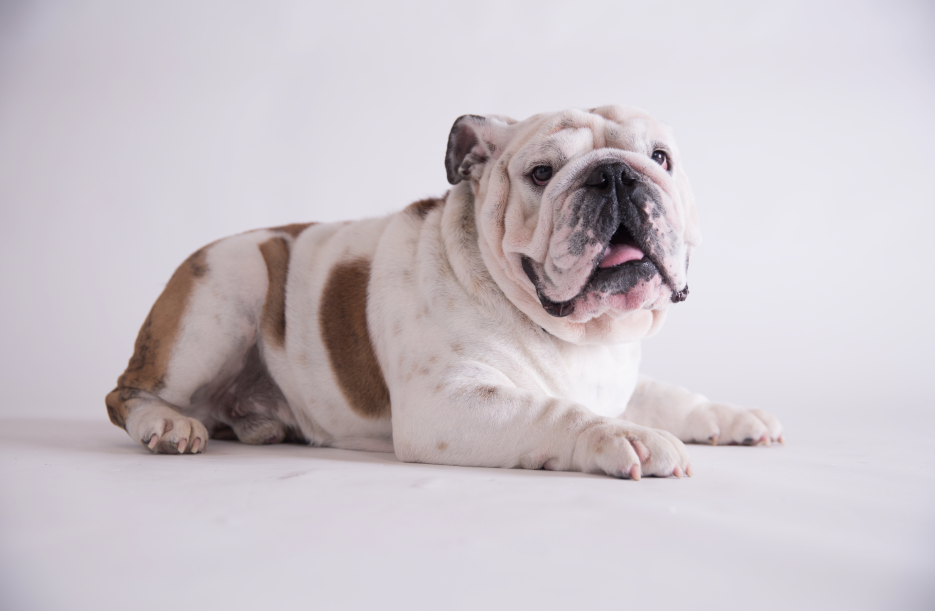 Erin Bell, Drake University's Live Mascot Director began her search for a live mascot, following the passing of the legendary Porterhouse, who was Drake's unofficial mascot from 2009 to 2013. Bell—with her husband, Kevin, LW'11—reached out to friends and professionals in the bulldog network (yep, that's a thing), describing the qualities of a Drake Bulldog. Griff fit the bill perfectly and found his forever home at Drake University.
Griff adores people and can never get enough attention. He has an insatiable appetite (though recently he's been on a diet), and he loves to take long naps—punctuated by moments of mischief.
Griff, age 6,can be spotted (ha, get it?) meeting with prospective students at "Friday's with Griff" in Cowles Hall, attending various athletic events (rowing regattas are his favorite), campus celebrations, community festivals, or on brief walks through the Beaverdale neighborhood, where he lives with his parents and siblings: Carter (4.5), Sydney (3), Magoo (9, 63 in dog years), and Lottie (8, 56 in dog years).  Pro tip: You can follow Griff on Instagram and Twitter @DrakeUGriff to stay up-to-date on his mischief.
Erin and Kevin were caretakers for Porterhouse, who was beloved by the campus from when he took the crown at the Beautiful Bulldog Contest in 2009 to his passing in 2013. It's understandable that people often think the Beautiful Bulldog Contest winner and Drake's live mascot are the same dog, but they're actually different. The more Bulldogs the better, right?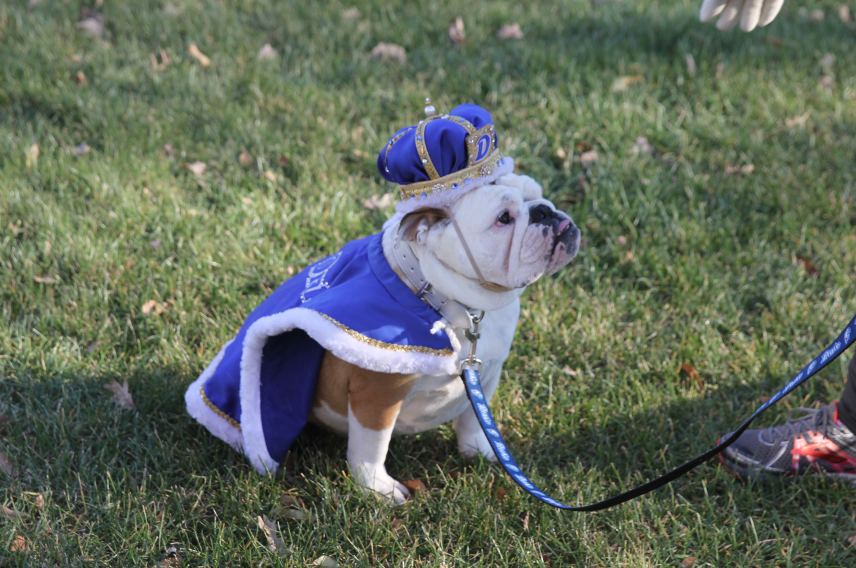 For the past 40 years, Drake has hosted the Beautiful Bulldog Contest where Bulldogs compete for a crown. Judges take temperament, beauty, school spirit, and other characteristics into consideration when choosing. This year, the winner was Bow-Z, a lovely English Bulldog from Pella, Iowa. Following her win, she served as a live-mascot for the Drake Relays. She will keep the crown until next April when the next pup is named, while Griff will continue his reign as Live Mascot until he decides to retire, though he is quite beautiful, if we say so ourselves.  You can follow the Drake Beautiful Bulldog Contest magic by liking their Facebook page: www.facebook.com/BeautifulBulldog.
Now that we've cleared up the difference between a Beautiful Bulldog winner and Griff, it's time to discuss the mascot you're most familiar with, Spike. Our beloved Spike has gone through many adaptations since his official arrival in 1957.
Our bulldog mascot was coined in the early 1900s after a reporter noticed that two English Bulldogs frequently attended football practice and games. The mascot changed from the Drake Ducks to the Drake Bulldogs when John Griffith (Griff's namesake and owner of the two Bulldogs) became the athletic director in 1908. Spike went unnamed until 1957, when he was officially titled during the campus' homecoming celebration.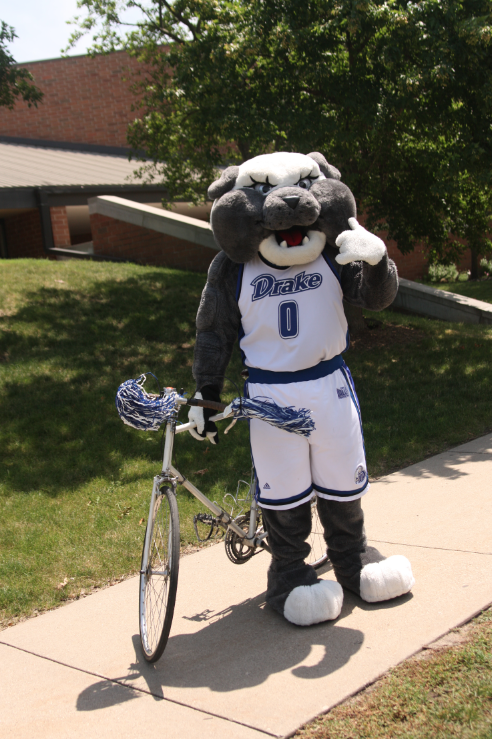 So, what do you say, do you have enough room in your heart for all of this Bulldog love?