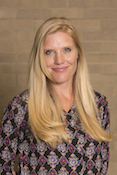 Dr. Cassity Gutierrez, Chair and Director of Pre-Professional Programs, has been selected for the National Rural Health Association's Rural Health Fellows Program for the year 2019. Dr. Gutierrez will attend the NRHA's Rural Health Policy Institute meeting on February 4-7, 2019 as well as NRHA's Annual Conference on May 7-10, 2019. A graduation ceremony will be held February 3, 2020 at the Rural Health Policy Institute meeting the following year.
"I believe my experiences as a public health practitioner serving rural communities, researcher addressing rural health disparities, and professor educating future rural health professionals have allowed me to develop an understanding of rural health issues and passion for improving the health of rural populations," said Dr. Gutierrez. The National Rural Health Association is a national non-profit member organization with a mission to provide leadership on rural health issues through advocacy, communications, education, and research, which align closely with the personal and professional aspirations of Dr. Gutierrez.
The reviewers looked at applications from experts with a variety of rural health care experience from across the country. In the selection process they evaluated the applicant's purpose for applying as well as their educational background and capacity of understanding health care issues in rural settings.