Drake Magazine, Urban Plains win national honors
Drake Magazine has received the top award in college journalism, winning a national Pacemaker honor at the recent Associated Collegiate Press and College Media Association convention in Louisville, Ky.
Urban Plains, the multimedia website produced by Drake School of Journalism and Mass Communication seniors, also won Associated Collegiate Press awards:
Second place, multimedia feature: Urban Plains, Katherine Bauer, Genna Clemen and Jess Lynk
Fifth place, multimedia sports: Urban Plains, Matthew Gogerty and Adam Rogan
In the College Media Association competition, Drake won four Pinnacle awards:
Best Magazine Contents Page/Spread: First Place, Drake Magazine
Best Online Main Page: Second Place, Urban Plains
Best Portrait: Second Place, Urban Plains
Best Arts and Entertainment Story: Third Place, Urban Plains
PR seniors named finalists for PR News awards
Drake seniors Katrina Sletten and Ellen Converse have been named finalists for the national PR News People Awards. Sletten is a finalist for PR Student of the Year and Converse is nominated for Intern of the Year.
The winners will be named at the annual PR People Awards Luncheon on Dec. 4 at the National Press Club in Washington, D.C. The event celebrates the top professionals in public relations. This makes three years in a row an SJMC public relations student has been named a finalist in each category.
Sletten is finishing her work as a triple public relations, astronomy and physics major. She spent the summer in the Brooke Owens Fellowship program as an intern with the Museum of Flight in Seattle in the Digital Learning Department.
Converse, a PR and history major, had a summer internship in D.C. as education outreach coordinator at the Newseum. She has also had internships at AARP and the Stuhr Museum of the Prairie Pioneer in Grand Island, Neb.
SJMC co-hosts speaker as part of Holocaust Education Week
Eric Schmalz, the community manager for the History Unfolded project at the U.S. Holocaust Memorial Museum, will speak on Thursday, Nov. 8, at 7 p.m. in Sussman Theater. Schmalz's talk is entitled, "The Gauntlet Has Been Thrown: Newspapers, Op-Eds and American Responses to Anti-Semitism." It will address the role the media played in what Americans knew about the world and the rise of anti-Semitism from the end of World War I to 1941. Schmalz will also be speaking in the Intro to Strategic Political Communication class on Thursday, 9:30-10:45 a.m. in Mer. 124B, and visitors are welcome. Schmalz's visit is sponsored by the SJMC, the Principal Center for Global Citizenship,  Jewish Federation of Greater Des Moines, Iowa Council for Holocaust Education and Drake Hillel.
The lecture is part of the University's first Holocaust Education Week, sponsored by Drake Hillel, a campus organization that allows Jewish students to explore their heritage. Other events occurring during the week:
Photo exhibit in the Olmsted breezeway on Tuesday, Wednesday and Thursday, Nov. 6-8
Panel discussion of genocide survivors on Tuesday, Nov. 6, 7-8 p.m. in Parents Hall
Screening of the film "Schindler's List" on Wednesday, Nov. 7, 7 p.m., the Hillel house, 1120 31st St.

Everyone a winner at Cool Jobs Expo
There were over 100 attendees at the SJMC's second annual Cool Jobs Expo last Monday — and that included Griff and three horses! (Kim Waltman, JO'93, above, brought the horses she uses as part of her public relations and executive coaching business. And Niki Smith, JO'08, MCL'15, associate director of University Communications and Marketing, joined by Griff's owner Erin Bell, discussed behind the scenes at the Beautiful Bulldog Contest.)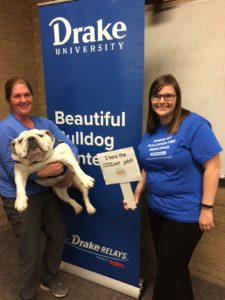 Of the 54 students who voted and filled out an evaluation, a door prize winner has been drawn: Oliva Carew won a $25 iTunes gift card.
Votes for "Coolest Job" were close and every employer/organization received at least one first place vote.  The Non-profit Extravaganza edged out RipRoar by one vote as "coolest." It probably helped that there were four non-profits in one room and cookies!
Winners also included one student who has an interview for an internship as a result of making a good impression at the Expo!  Students said it opened up more options for them and helped one respondent "figure out what I want to do."
Meredith Hall building hours
Meredith Hall is unlocked during the following hours when classes are in session:
Sunday: 7:30 a.m.-9 p.m.
Monday-Friday: 7 a.m.-9:30 p.m.
Saturday: 7:30 a.m.-5:30 p.m.
Students with SJMC majors can swipe into the building with a Drake ID even when the building is locked from 7 a.m.-2 a.m., Sunday-Thursday. Students who are already in the building when it is automatically locked are allowed to stay in the building. Students who need 24/7 access to swipe into the building should talk to their faculty member or adviser about how to obtain all-hours access.
Have a news item for the Memo?
The SJMC Monday Memo is a weekly newsletter to keep members of the wider SJMC community updated on School news, achievements, events and opportunities. If you have an item for the Memo, please send it to Dean Kathleen Richardson (kathleen.richardson@drake.edu) or SJMC webmaster and multimedia professor Chris Snider (christopher.snider@drake.edu). SJMC alums and other professionals can also contact Chris to have the Memo delivered via weekly email.
The School of Journalism and Mass Communication strives to create a community of scholars that represents the complexity of the human experience in regards to race, ethnicity, sex, sexual orientation, economic status, political views, gender identification, religion, age and physical abilities. We are committed to creating a welcoming and supportive environment for all our faculty, staff, students and visitors, and celebrating our differences through the lens of the First Amendment value of freedom of expression.