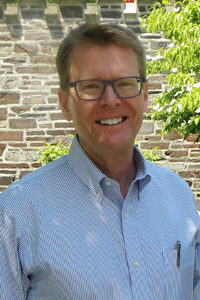 Professor Michael Paulsen of the University of St. Thomas School of Law will visit Drake University's campus as part of the Drake Constitutional Law Center's Distinguished Lecture Series on Nov. 1, 3 p.m., in Cartwright Hall, Room 213.
Paulsen's lecture is titled "The Constitutional Power of Impeachment: Congress's Ultimate 'Trump.'" The event is free and open to the public.
The program has been approved for one hour of state CLE credit (Activity Number: 308698).
Paulsen is a Distinguished University Chair and professor of law at the University of St. Thomas, where he has taught since 2007.
Previously, he was the McKnight Presidential Professor of Law & Public Policy and associate dean at the University of Minnesota Law School. He has also served as a federal prosecutor, as attorney-advisor in the Office of Legal Counsel of the U.S. Department of Justice, and as counsel for the Center for Law & Religious Freedom.
Paulsen has published more than 90 scholarly articles and book chapters on a wide variety of constitutional law topics. He also co-authored The Constitution: An Introduction (Basic Books, 2015) and the casebook The Constitution of the United States (Foundation Press, 3d ed., 2017).
In addition, Paulsen has guest lectured across the United States and taught as a visiting professor at Princeton University, Georgetown University, Bethel University, Uppsala University (Sweden), Daystar University (Kenya), and Universidad de los Andes (Chile). He was also a fellow in the James Madison Program in American Ideals and Institutions in the Department of Politics at Princeton University.
Paulsen is a graduate of Northwestern University, Yale Law School, and Yale Divinity School.
The Drake Constitutional Law Center is one of only four constitutional law programs established by the U.S. Congress and funded by the federal government. The center's mission is to foster study of the U.S. Constitution and its roots, formation, principles, and development.
The Distinguished Lecture Series brings to campus the nation's leading constitutional scholars to engage students and faculty on the important issues of the day.
Learn more about the Constitutional Law Center.