Advertising class visits local agency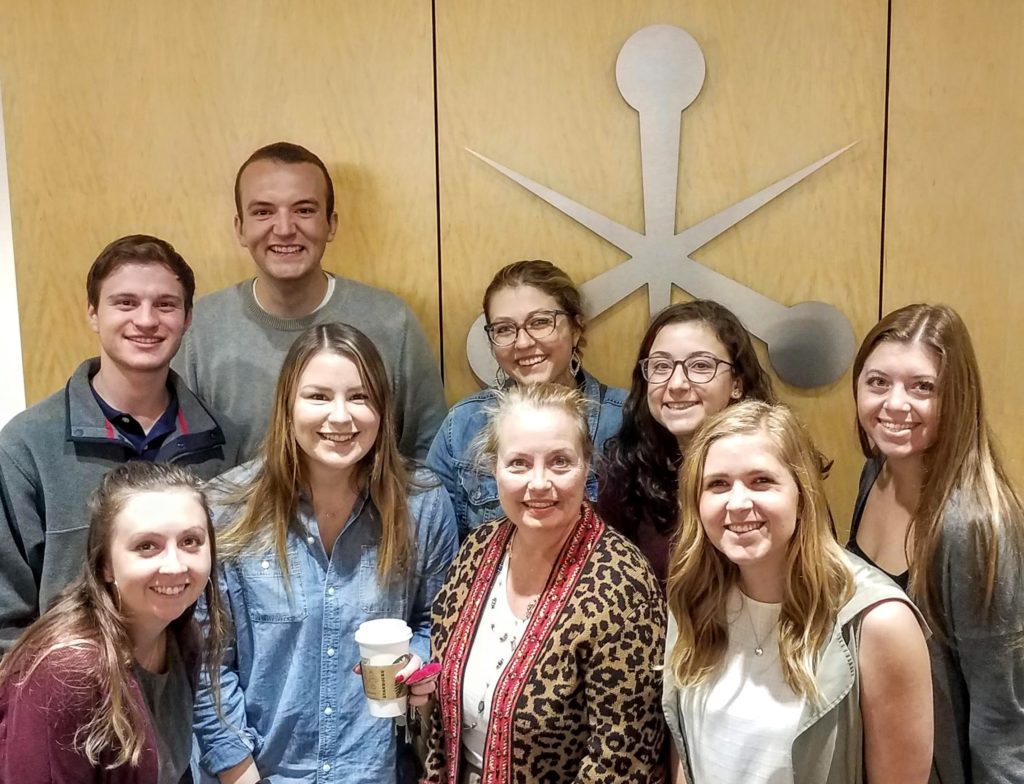 The Advertising Account Planning class visited Trilix agency to learn about their use of research in developing consumer understandings for strategic media planning. Alumna Haley Austin, bottom right, the Digital Media Specialist at Trilix, ran the session and then led students through a tour of the agency.
100 attend SJMC-hosted talk by Pulitzer winner Art Cullen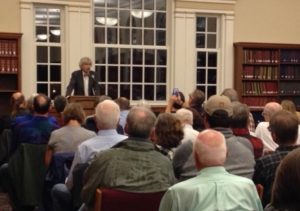 Approximately 100 people attended a talk by Iowa journalist Art Cullen on Oct. 9 in the Cowles Reading Room. Cullen, longtime editor of the Storm Lake Times who won a Pulitzer Prize for commentary in 2017, read from his new book, "Storm Lake: A Chronicle of Change, Resilience, and Hope from a Heartland Newspaper." He took questions from the audience and discussed the political realities of rural Iowa, the multiculturalism of his town, the environmental issues of farm country and the future of community journalism. The event was sponsored by the Drake School of Journalism and Mass Communication and the Drake Agricultural Law Center.
January Term class on the music industry offered
The SJMC is offering a January Term class on the workings of the recorded music industry, taught by Tobi Parks, a professional musician who worked for Sony Music Entertainment and owns a local music studio. "A Peek Behind the Curtain of the Music Business" (JMC 99, CRN 184) is an interdisciplinary study of the music industry, including music publishing, music promotion, music business ethics, emerging music business technologies, copyright law, and other subjects directly pertinent to understanding today's music industry landscape. The course will include a practical look at the industry through the work of Station 1 Records, a local record label.  The course includes daily guest speakers both in class and via video conference with executives from the leading companies in the music business like Sony Music, Warner Music Group, Kobalt Music Publishing, and others.
Station 1 Records is a non-profit artist entrepreneurship program dedicated to the development and patronage of independent music artists. Station 1 provides a platform for artists and opportunities for students interested in working in the business to do hands-on work in recording, distribution, public relations, marketing, promotion, and tour support.
Stop by Mer. 118 and say hi to Denise
The SJMC has welcomed Denise Ganpat as the office's administrative assistant. She will be busy running the office, supporting faculty and students in myriad ways, organizing events, welcoming guests to Meredith Hall and helping the student organizations as an aide to the Board of Student Communications. Denise previously worked in the international programs office.
Spring registration begins Oct. 29
Registration for spring semester classes begins Oct. 29. SJMC faculty are scheduling advising sessions; check with your adviser to see if you need to sign up electronically or on a printed signup sheet on your adviser's door. Keep an eye out for emails from your adviser and from dean's assistant Mallory Quinn. If you have any questions, see Mallory in Mer. 119.
Meredith Hall building hours
Meredith Hall is unlocked during the following hours when classes are in session:
Sunday: 7:30 a.m.-9 p.m.
Monday-Friday: 7 a.m.-9:30 p.m.
Saturday: 7:30 a.m.-5:30 p.m.
Students with SJMC majors can swipe into the building with a Drake ID even when the building is locked from 7 a.m.-2 a.m., Sunday-Thursday. Students who are already in the building when it is automatically locked are allowed to stay in the building. Students who need 24/7 access to swipe into the building should talk to their faculty member or adviser about how to obtain all-hours access.
Have a news item for the Memo?
The SJMC Monday Memo is a weekly newsletter to keep members of the wider SJMC community updated on School news, achievements, events and opportunities. If you have an item for the Memo, please send it to Dean Kathleen Richardson (kathleen.richardson@drake.edu) or SJMC webmaster and multimedia professor Chris Snider (christopher.snider@drake.edu). SJMC alums and other professionals can also contact Chris to have the Memo delivered via weekly email.
The School of Journalism and Mass Communication strives to create a community of scholars that represents the complexity of the human experience in regards to race, ethnicity, sex, sexual orientation, economic status, political views, gender identification, religion, age and physical abilities. We are committed to creating a welcoming and supportive environment for all our faculty, staff, students and visitors, and celebrating our differences through the lens of the First Amendment value of freedom of expression.