Welcome Denise to SJMC!
Denise Ganpat will join the School of Journalism and Mass Communication on Wednesday as the newest member of the SJMC team. Denise will become the School's administrative assistant, in charge of making sure the office runs smoothly for students, faculty and staff, and helping with School events and other important initiatives. Denise has been the administrative assistant in Drake International and the Principal Center for Global Citizenship. She is a graduate of the SJMC magazine program and is pursuing her master's degree in the School of Education. Her past positions include assistant director of after-school programs for the Amarillo, Texas, Black Historical Cultural Center and development director at the Amarillo Botanical Gardens. Stop by Mer. 118 and welcome Denise back to Meredith Hall!
PR students present at international conference
Students from Drake's chapter of the Public Relations Student Society of America were invited to present at the international PRSSA convention in Austin, Texas, this weekend, Oct. 7-9. Karoline Sandusky, Ben Heinze, Emma Haselhuhn, Meghan Kearney and Ellen Converse presented on "Fundraising and Financial Education." Only a handful of PRSSA chapters among the 300 international chapters are invited to present at the conference every year, and Drake students have been invited in four of the past five years.
Pulitzer winner to speak at Drake
Pulitzer Prize-winning Iowa journalist Art Cullen will read from his new book, "Storm Lake: A Chronicle of Change, Resilience, and Hope from a Heartland Newspaper" on Tuesday, Oct. 9 at 7 p.m. in the Cowles Library Reading Room. Cullen will also answer questions from the audience. The event is free and open to the public and it is co-sponsored by the Drake Agricultural Law Center and the Drake School of Journalism and Mass Communication.
Cullen is the longtime editor of The Storm Lake Times, a twice-weekly newspaper owned and run by his family. Cullen won the Pulitzer Prize for commentary in 2017 for editorials that challenged the state's powerful corporate agricultural interests, including the role of farming in polluting Iowa waters.
Cullen's book is described as "part memoir, part cultural history" that provides insights into the culture of small-town middle America and hope for the future of the heartland. Here is a profile of Cullen written by SJMC alum Jane Burns, JO'83: https://isthmus.com/news/cover-story/art-cullen-the-muckraking-small-town-journalist-who-nabbed-a-pulitzer/
Drake alums win Midwest Emmys
Drake alums were honored at this weekend's Upper Midwest Emmys contest of the National Academy of Television Arts and Sciences:
Morning newscast (Markets 1-70)
KCCI 8 News This Morning
Heidi Gojkovich, JO'98, Executive Producer
Alex Payne, JO'16, Producer
Anthony Pisut, JO'90, Director
Emma Wilson, JO'16, Producer
Evening newscast (Markets 1-70)
5 Eyewitness News At 10: Officer Yanez Verdict/Protests – KSTP-TV
Zach Tecklenburg, JO'09, Executive Producer
Arts and Entertainment Program
Des Moines Metro Opera Presents Billy Budd – Iowa Public Television
Neal Kyer, JO'95, Video Engineer/Editor
Children/Teen
IPTV KIDS Clubhouse: Water Episode – Iowa Public Television
Debra Herbold, Executive Producer
Explore 3+3 undergrad/law program
Explore the possibility of completing your undergraduate major in three years, followed by earning your J.D. from Drake's Law School.  Options exist to earn an undergraduate major and a law degree in six years at Drake.  Discover how you can pursue this pathway and learn about Drake's Law School, the law school admission process and scholarships by attending an overview session on Thursday, Nov. 1 at 4 p.m. in Cartwright Hall (Law School), Room 201.  RSVP by clicking here.
Scholarships offered for study abroad
Students who would like to study abroad during their time at Drake are encouraged to check out the scholarships and other aid available to make that dream a reality. One of the scholarships was established especially for SJMC students, in honor of retired electronic media professor David Wright. Find out more at https://www.drake.edu/studyabroad/gettingstarted/fundingeducationabroad/
SJMC classes working with off-campus clients
SJMC classes this fall are getting real-world experience by working with a variety of clients: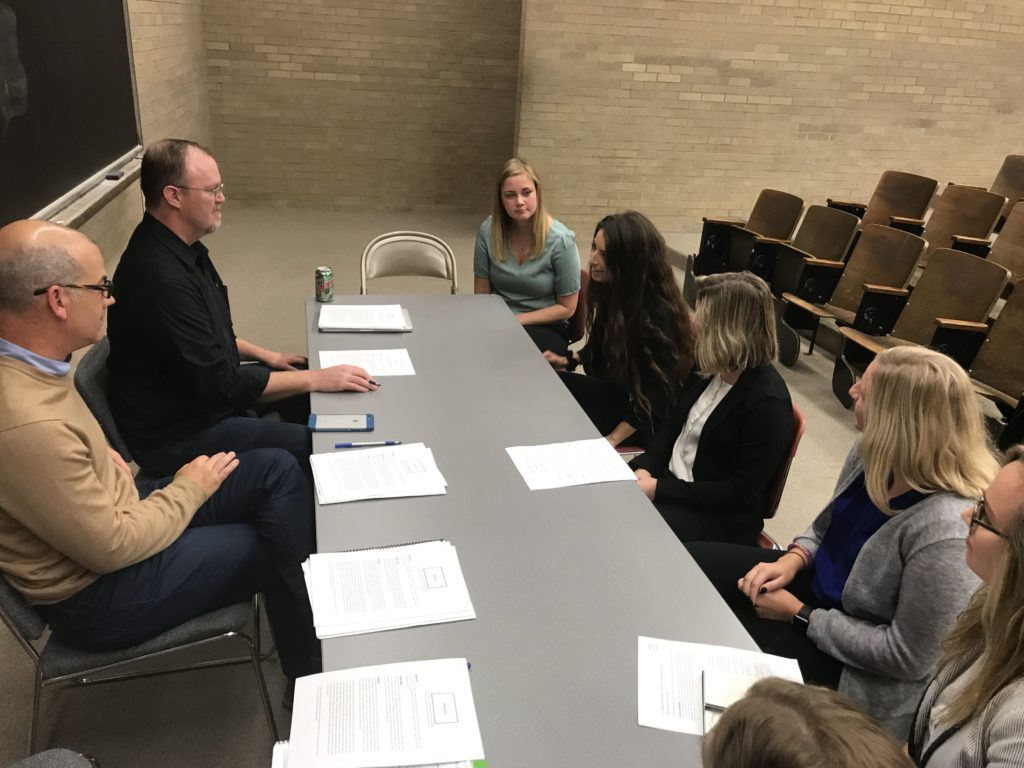 Public Relations seniors meet with representatives of the capstone client, the Des Moines Water Works Park Foundation
Meredith Hall building hours
Meredith Hall is unlocked during the following hours when classes are in session:
Sunday: 7:30 a.m.-9 p.m.
Monday-Friday: 7 a.m.-9:30 p.m.
Saturday: 7:30 a.m.-5:30 p.m.
Students with SJMC majors can swipe into the building with a Drake ID even when the building is locked from 7 a.m.-2 a.m., Sunday-Thursday. Students who are already in the building when it is automatically locked are allowed to stay in the building. Students who need 24/7 access to swipe into the building should talk to their faculty member or adviser about how to obtain all-hours access.
Have a news item for the Memo?
The SJMC Monday Memo is a weekly newsletter to keep members of the wider SJMC community updated on School news, achievements, events and opportunities. If you have an item for the Memo, please send it to Dean Kathleen Richardson (kathleen.richardson@drake.edu) or SJMC webmaster and multimedia professor Chris Snider (christopher.snider@drake.edu). SJMC alums and other professionals can also contact Chris to have the Memo delivered via weekly email.
The School of Journalism and Mass Communication strives to create a community of scholars that represents the complexity of the human experience in regards to race, ethnicity, sex, sexual orientation, economic status, political views, gender identification, religion, age and physical abilities. We are committed to creating a welcoming and supportive environment for all our faculty, staff, students and visitors, and celebrating our differences through the lens of the First Amendment value of freedom of expression.