Drake University's production Theatre Durang-ed, a collection of theatre parodies written by Christopher Durang, runs Thursday, Oct. 4, through Sunday, Oct. 7, in the William S.E. Coleman Studio Theatre of Drake University's Harmon Fine Arts Center. Performances start at 7:30 p.m. Thursday through Saturday, and 2 p.m. on Sunday.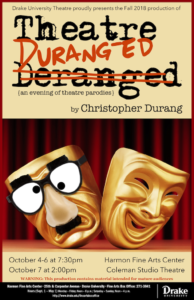 Admission is $10 for adults and $8 for students and senior citizens. Tickets are available online, in person, or by telephone at the Fine Arts Box Office, 2525 Carpenter Ave., 515-271-3841.
Theatre Durang-ed is directed by Michael Rothmayer, Drake University associate professor of theatre arts. It includes several thought-provoking and comedic collections, including: Euripides' Medea; Tennessee Williams' The Glass Menagerie, Cat on a Hot Tin Roof and A Streetcar Named Desire; and Sam Shepard's A Lie of the Mind and Fool for Love. It's an evening of laughs intended for mature audiences only.
"The cast is made up of a great ensemble of actors," said cast member Connor Sullivan, senior BFA musical theatre major. "Each actor plays multiple roles. I have grown as an actor throughout the rehearsal process learning how to switch quickly between characters, while making each role distinct and believable."
According to Jack Griffin, sophomore BFA musical theatre major, the production has encouraged students to step outside of their comfort zones and immerse themselves in the world of comedy.
"The challenge with comedy is that you can't force it to be funny," said Griffin. "You have to take it seriously. If you try to make it funny, you're not going to get laughs. Whereas if you take it seriously, you probably will get laughs."
Noelle McVicar, senior BFA musical theatre major, is looking forward to seeing how the audience reacts to the production. "I think they [the audience] will be pleasantly surprised and pleasantly confused, but enjoy every second."