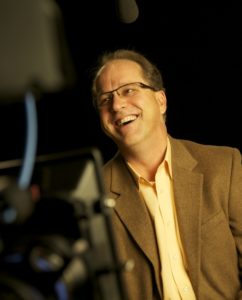 The Comparison Project will present the second lecture of the second year of its two-year series on miracles. Jeffrey J. Kripal, who holds the J. Newton Rayzor Chair in Philosophy and Religious Thought at Rice University, will deliver a lecture titled "Changed in a Flash: How One Woman Was Struck by Lightning, Talked to God, and Came Back to Dream the Future." The lecture will be held at 7 p.m. Thursday, Oct. 4, at Sussman Theater in the Olmsted Center on Drake's campus.
Jeffrey J. Kripal, who is also associate director of the Center for Theory and Research at the Esalen Institute, is the author of numerous books, including his most recent Secret Body: Erotic and Esoteric Currents in the History of Religions (Chicago, 2017). He specializes in the comparative study and analysis of extreme religious states from the ancient world to today.
In this lecture, Prof. Kripal will describe the near-death experience of Elizabeth Krohn, with whom he has co-written a recent book. He will then use Elizabeth's visionary narrative and precognitive dreams to rethink how such anomalous events are treated, or not treated, in the study of religion and what they might still mean for rethinking the limits of the human.
The Comparison Project enacts global philosophy of religion in the local Des Moines community. It is supported by Humanities Iowa, Cultivating Compassion: The Dr. Richard Deming Foundation, the Drake University Center for the Humanities, the Des Moines Area Religious Council, and Drake University's Principal Center for Global Citizenship.
Future events in The Comparison Project's lecture and dialogue series on miracles include:
Thursday, October 25: "The Intertwining of Healing and Religion in a Contemporary Chinese American Community." Kin Cheung, assistant professor of Asian religions, Department of Global Religions, Moravian College. Sussman Theater.
Thursday, November 15: "The 'Miracle' Problem: A Lakota Thought Experiment." Fritz Detwiler, professor of philosophy and religion, Adrian College. Sussman Theatre.
Future events in The Comparison Project's "Meet My Religious Neighbor" open-house series include:
Sunday, October 7, 11:30 a.m: Iowa Sikh Association, 1115 Walnut St., West Des Moines
Sunday, November 4, time TBD: Des Moines Zen Center, 6901 SW 14th St., Des Moines
For more information, please visit: http://comparisonproject.wp.drake.edu, or email: comparisonproject@drake.edu.