Silvan Negrutiu, assistant professor of piano and coordinator of keyboard studies at Millikin University School of Music, will present the opening concert of the 2018–2019 season for the Drake University Keys to Excellence Piano Series at 7:30 p.m. on Monday, Oct. 8, in Sheslow Auditorium.
The performance, which is free and open to the public, will feature the following works:
Six Bagatelles, Op. 126
Ludwig van Beethoven
Third Piano Suite, Op. 6 No. 1
Constatin Silvestri
Sarabande, Op. 10
George Enescu
Ten Bagatelles, Op. 5
Alexander Tcherepnin
Danzas Argentinas, Op. 2
Alberto Ginastera
Dr. Silvan Negrutiu will also present a free masterclass at 6 p.m. on Sunday, Oct. 7, in Sheslow Auditorium. The masterclass is open to the public.
About the artist
Internationally acclaimed pianist Silvan Negrutiu has performed concerts around the world at venues such as the Kennedy Center in Washington DC, Ireland's National Concert Hall, the Romanian Athenaeum in Bucharest, the Xi'an Concert Hall in China, the Showa Recital Hall in Tokyo, and the Hong Kong Academy for Performing Arts. He appeared as a soloist with prestigious orchestras including the Romanian Radio Chamber Orchestra, Alicante Philharmonic, George Enescu Philharmonic, and Dublin Symphony Orchestra. Some of his concerts have included live television and radio broadcasts. He is a laureate of numerous international competitions, including the "Roma 2000" and Salerno "Beethoven e i classici" in Italy; the "Seiler" in Sofia, Bulgaria; the "Feis Ceoil" in Dublin, Ireland; and the "Konzerteum" in Pireas, Greece.
In high demand as a performer, masterclass clinician, adjudicator, and speaker, Silvan Negruțiu has been a frequent attendee and performer at international music festivals such as the International Keyboard Institute and Festival in New York, the International Holland Music Sessions in The Netherlands, the Xi'an International Music Festival in China, and the Aspen Music Festival in Colorado. For the last two summers, he has been on the artist-teacher rosters at the Xi'an International Music Festival in China and at the InterHarmony International Music Festival in Italy.
In 2008, Silvan Negrutiu was one of the seven international pianists invited to the prestigious Beethoven Festival in Positano, Italy, organized by the Wilhelm Kempff Cultural Foundation. He is the recipient of the 2009 Gaiety Bursary in Dublin, the Romanian Government Bursary in 2007, the Romanian Ministry of Education and Research Award of Excellence in 2002, and the 2001 Eugen Barbu Award for excellence in performing activity. He has recently collaborated with Japanese violinist Akemi Takayama to record the CD Carl Roskott: Works for Violin (Centaur Records), which was recognized in May 2018 by Global Music Awards with a Silver Medal for Outstanding Achievement. He is also an active member of the Performing Creation Union of the Romanian Musicians; College Music Society; Music Teachers National Association; and currently serves as Vice President of the Decatur Area Music Teachers Association and South District Chair of the Illinois State Music Teachers Association.
Silvan Negrutiu holds piano performance degrees from Shenandoah Conservatory in Virginia (D.M.A.), the Royal Irish Academy of Music and Dublin City University in Ireland (M.Mus.), and the National University of Music in Bucharest, Romania (B.Mus.). He currently resides in Decatur, Illinois, where he is the assistant professor of piano and coordinator of keyboard studies at Millikin University School of Music. Prior to his appointment at Millikin University, Silvan Negrutiu taught at the Royal Irish Academy of Music and Shenandoah Conservatory.
About Keys to Excellence Piano Series
Keys to Excellence Piano Series was created to raise awareness of Drake's fundraising efforts for 70 new Yamaha pianos for the music department. It brings internationally acclaimed artists to perform on the Yamaha CFX concert grand at Drake University. The series is supported by Yamaha, West Music, Civic Music Association, and Drake University. For more information, contact Nicholas Roth at 515-321-5947 or nicholas.roth@drake.edu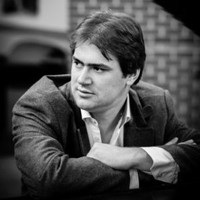 Keys to Excellence Piano Series 2018–19:
OCTOBER 8: Silvan Negrutiu– Millikin University
NOVEMBER 26: Nicholas Roth – Drake University
FEBRUARY 11: Quentin Kim – Pusan National University (South Korea)
MARCH 25: Thomas Rosenkranz – University of Missouri Kansas City
APRIL 29: James Giles – Northwestern University
All performances begin at 7:30 p.m. in Sheslow Auditorium and are free and open to the public.