After learning about the Americans with Disabilities Act in their coursework, occupational therapy students were treated to a celebrity sighting on August 8, 2018.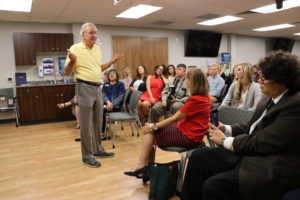 Former Senator Tom Harkin, who represented Iowa in the United States Congress for more than four decades, spoke with the students about disability rights and advocacy, answered questions, and took a tour of the facilities.
During his presentation, Harkin explained how he learned firsthand about the challenges facing people with disabilities from his deaf brother, Frank. Harkin crafted his signature legislative achievement, the Americans with Disabilities Act, to protect the civil rights of Americans with physical and mental disabilities.
Occupational Therapy Assistant Professor Jayna Fischbach said the students were impressed with Harkin's personal accounts about passing important legislation and had a much better understanding of how to go about advocating for civil rights.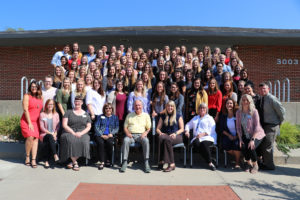 "I enjoyed hearing about his collaboration across party lines and his acknowledgement of a Republican Senator who originally proposed the ADA, but was voted out before being able to see it through," Fischbach said. "I also enjoyed hearing about how passionate he is to continue the work he is doing to improve lives."
Fischbach said that due to the positive feedback from students, staff and faculty, the OTD department will continue to work with the Harkin Institute based at Drake University to explore possible collaborative efforts.