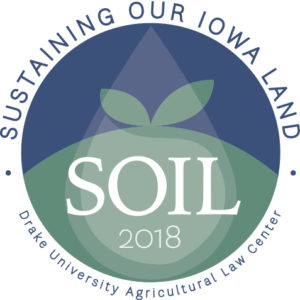 Drake University's Agricultural Law Center is hosting a statewide conference for Iowans to consider creating a long-range vision for the state's water and land.
The conference, titled "Sustaining Our Iowa Land (SOIL) 2018: Turning Our Vision for Iowa's Water and Land into Action" will be held Sept. 19, from 8 a.m.-5:15 p.m., at Olmsted Center, Drake University.
Drake is hosting the event in cooperation with USDA, the Iowa Natural Heritage Foundation, Leopold Center for Sustainable Agriculture, Des Moines Water Works, and the Izaak Walton League.
"We are very excited about the upcoming SOIL 2018 conference because it gives Iowans the opportunity to share their visions for the future of our water and land," said Professor Neil Hamilton, emeritus director of the Drake Agricultural Law Center and SOIL 2018 conference host and organizer. "We hope by taking a longer term vision for the future, we can help identify obstacles in our way and actions people can take to help make the vision real."
The conference is designed for an Iowa audience, but all are welcome to attend, as the issues that will be covered are important in other states as well.
Experts in agriculture and the environment from all over Iowa will speak at the conference, including the following:
Ray Gaesser, former chairman of the American Soybean Association
Elizabeth Garst, member of the board of directors at Whiterock Conservancy
Molly Hanson, executive director of the Iowa Rivers Revival
Jerry Hatfield, director of the USDA National Laboratory for Agriculture and the Environment
Hannah Inman, executive director of the Great Outdoors Foundation
Joe McGovern, president of the Iowa Natural Heritage Foundation
Jim Pease, associate professor emeritus at Iowa State University
Robert Riley, CEO of Riley Resources Group
Matt Russell, executive director of Interfaith Power and Light
William Stowe, director of the Des Moines Water Works
Jennifer Terry, executive director of the Iowa Environmental Council
Seth Watkins, owner of Pinhook Farm
Larry Weber, executive associate dean of the University of Iowa's College of Engineering
Drake Law students will also discuss their vision for Iowa's water and land in moderating the wrap-up session.
Registration is $75 per person and includes a light breakfast, lunch, and snack break. The price for students and a second registration (for spouses or family members of attendees) is $25 per person. Register now online.
Questions can be directed to Anna Jordan, policy and outreach coordinator for the Drake Agricultural Law Center, at anna.jordan@drake.edu.
Founded in 1983, the Drake Agricultural Law Center is internationally recognized for providing opportunities to study how the legal system shapes our food system and influences the ability of the agricultural sector to produce, market, and utilize agricultural products.
Learn more about the Drake Agricultural Law Center.