The World Health Organization (WHO), in collaboration with the International League Against Epilepsy (ILAE) and the International Bureau for Epilepsy (IBE), have initiated a Global Campaign Against Epilepsy. The mission of the Campaign is to improve acceptability, treatment, services, and prevention of epilepsy worldwide.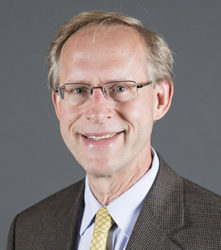 Tim Welty, Clinical Sciences Department Chair at CPHS, has been asked to contribute to the Campaign's Global Epilepsy Report. Welty will collaborate with other global leaders to create a chapter on issues related to improving access to essential medicines. The report will consist of eight chapters, each led by experts in the relevant topics.
"It is always a privilege and challenge to engage with my professional colleagues," Welty said. "The interactions with these individuals is always a learning experience and helps me consider perspectives that I might not have thought about on my own."
Welty's expertise comes from years of involvement in practice and research related to the pharmacotherapy of epilepsy. His work with nongovernmental organizations and mission groups in low and middle-income countries has given him an understanding of the challenges that individuals face in gaining access to medicines.
"If access to high quality medicines in an economical and sustainable manner is not available to patients or caregivers, then epilepsy is not controlled. Individuals with seizures will suffer greatly and many will die as a result of epilepsy," Welty said. "Clearly access to essential medicines or a broader range of medicine options improves the lives of individuals with epilepsy and reduces mortality from the disease."
The goal of the project is to enhance awareness and response in order to encourage countries to improve access to epilepsy care at the community level. WHO and its partners aim to launch the report worldwide in 2018.
"My hope is that this project will result in changes to the way in which countries, communities, and individuals worldwide look at epilepsy as a disease," Welty said. "It is also my hope that it will result in changes in policies and practice that lead to increased access to effective medicines to everyone who suffers from epilepsy."