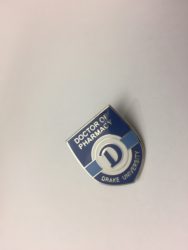 Students in the College of Pharmacy and Health Sciences were ushered into the final phases of their professional programs at the 2018 Recognition and Pinning Ceremony, Thursday, May 10, at Sussman Theater in the Olmsted Center. The pinning ceremony marks a transitional to internships, fieldwork, and rotations for CPHS students.
"In commemoration of reaching this milestone, you have earned the College's pin and a new nametag. This pin is in the shape of a shield with the name of your degree program, which serves as a reminder of your program's professional values and competencies that you will protect in the future," said Dean Renae Chesnut. "The line with the Drake 'D' in the center circle serves as a reminder that you are always a representative of the Drake University College of Pharmacy & Health Sciences.  While you are receiving this pin tonight to signify entering into the final phase of your educational journey at Drake, we hope that you will continue to wear this pin with pride following your graduation."
In addition, Dean Chesnut announced the winners of a number of prestigious awards.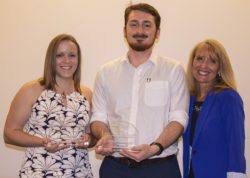 Health Sciences Awards
Emily Schmid was presented the Outstanding Health Sciences Student Award.  Recipients of this award have excelled in their coursework and have been active in University and College professional organizations and activities.  Emily has been involved in Kappa Alpha Theta International Sorority. She is active in numerous community service projects including Feed My Starving Children. Emily has her Nursing Assistant Certification and is completing her biology minor.
Ben Williamson received the Health Sciences Student Leadership Award.  Ben is a member of HOSA: Future Health Professionals, ­Alpha Tau Omega, and Residence Hall Executive Committee. He serves the College on the Student Affairs Committee and the University as a Residence Assistant. Ben is also completing a dual degree through Des Moines University.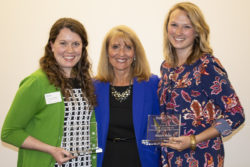 OTD Awards
Shannon Wyatt won the Occupational Therapy Scholastic Achievement Award.  Shannon frequently demonstrates a desire to expand her knowledge, and displays a unique enthusiasm for scholastic excellence.
Maddy Nave was awarded the Occupational Therapy Leadership and Professional Development Award.  Maddy consistently shows her ability to be a leader in the field of occupational therapy through involvement on Drake's campus and on a national level in the profession. She excels in leadership roles as the DUSOTA president for 2 years, a teacher's assistant in the OTD program, and as the AOTA Special Interest Section student intern in the area of Home and Community Health.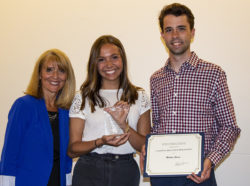 PharmD Awards
Matt Glasow received the Cardinal Health Scholarship Award.  Cardinal Health has selected Drake's program for a $10,000 scholarship award to recognize a final year student, who is interested in a career in independent pharmacy. Matt has demonstrated his commitment and passion for independent pharmacy not only through his work in the community setting but also by working with Representative John Forbes, PH'80 to lobby on behalf of community pharmacy and pharmacy-related issues that the State of Iowa is facing.
Nicole Draker was recognized as the the Lon N. Larson Engaged Practitioner Award. Established through memorials made in his honor, the annual Larson award is presented to the student that most demonstrates the values and actions for which Dr. Larson, previous faculty member, was best known: high ethical standards, reflective practice, innovation, and community service.  Nicole has displayed the same passion for the profession that Dr. Larson continually conveyed to his students and mentees. She is a member of the Central Iowa Pharmacy Association, the American Society of Health System Pharmacists, Drake Pharmacy United Group of Students (DRxUGS), Rho Chi Pharmacy Honor Society and has served in a leadership capacity for several of these organizations. In addition, Nicole is a graduate of the Donald V. Adams Leadership Academy, is pursuing a LEAD concentration, and has been active with volunteer opportunities such as serving as a peer mentor with Community Youth Concepts for middle school students and with Drake University for first year students.
After the awards presentation, pins were awarded to students moving into their final program experiences. Dean Chesnut remarked, "These experiences will be wide and varied but I have no doubt that each one will provide valuable learning and allow each of you to demonstrate and hone your knowledge, skills, and educational objectives of your individual academic programs."
Receiving Drake CPHS pins were the following:
Health Sciences: Joyti Adhikari, Isabel Alanis, Taylor Bischel, Jensen Bloomfield, Tawny Carroll, Branden Christensen, Hannah Clavell, Petyon Farmer, Riley Fox, Hannah Frisch, Molly Fuelberth, Grace Gaugert, Brook Ginn, Katherine Hadsall, Katelyn Hagenbucher, Talia Hertz, Mikaela Janes, Kual Jiel, Gabrielle Jonas, Ellen Judd, Colleen Kless, Devon Lord, Sam Maki, Victoria Meier, Corinne Meyers, Nicole Miller, Etta Moline, Charles Mooney, Breanna Moore, Sarah Neidermann, Abigail Nordman, Kaylee Olson, Andrew Orr, Alexandria Peake, Kennede Reese, Najma Salah, Melissa Schlotzhauer, Emily Schmid, Carolyn Sherrick, Christina Teufert, Isabel Trujillo, Anita Tyree, Alexandria Ward, Taylor Weetman, Benjamin Williamson, and Faith Wilson.
Occupational Therapy Students: Whitney Baker, Anna Bruns, Brittney Campbell, Jayme Corry, Kaitlin Crane, Taylor Crane, Chelsea Edmondson, Madeline Eggleston, Lindsey Envall, Julie Girard, Kaylie Hills, Alyssa Jameson, Allison Kanaly, Regan Longtin, Caroline McCleary, Molly McDonough, Derek Mehrl, Sydney Moore, Emily Nadolny, Madelyn Nave, Michail Peterson, Caleb Prevo, Natalie Stalsberg, Morgan Tracy, Breanna Walton, and Shannon Wyatt.
Pharmacy Students: Anne Alley, Chintan Barot, Brittany Behrens, Jessica Berei, Lauren Blum, Brandon Boelts, Karli Borcherding, Austin Brandes, Anna Burns, Samantha Campbell, Scott Caslow, Carter Chapman, Andrea Chargo, Da Won Choi, William Cleveland, Samantha Dao, Christopher Dawson, Andre Do, Nicole Draker, Colby Dunn, Mary Elder, Erin Engbring, Maxx Enzmann, Lisa Feldmann, Kristin Fipps, Abigail Fleischmann, Courtney Forschen, Kee Gales, Matthew Glasow, Allison Golbach, Kathryn Gray, Spencer Gray, Lucas Groeneveld, Melissa Harvey, Michael Harvey, Claire Herbst, Amanda Hoerres, Meredith Hollman, Marissa Holloway, Olivia Hopton, Brianna Hostert, Lisa Huska, Michelle Jacob, Hailey Jensen, Yoon Young Jeong, Jobin Joseph, Matthew Kent, Rachel Kiehne, Nathan Koch, Nita Kumaran, Emily Lammers, Gabrielle Landes, Sara Lauterwasser, Samantha Lee, Zachary Lough, Mercy Macharia, Elena Maloletko, Jenna Manatrey, Kayla Manning, Anna Marceau, Kylie Markovich, Danielle McKay, Andrew Mitchell-Bueso, Benjamin Modrell, Hannah Mortland, Michaela Newell, Kelley Nguyen, Ryan Nguyen, Jacqueline Nordvall, Katherin O'Reilly, Michael Ohman, Sara Olson, Jonathan Opheim, Cassandra Owens, Jacqueline Parmentier, Avani Patel, Kelsey Piech, Rachel Purdy, Samantha Renfro, Jakob Rhodes, Emily Ryan, Christopher Sahli, Tylan Schreiner, Julie Schultz, Shawna Seibel, Allison Sekula, Taylor Sheahan, Emma Sheldon, Kayla Spars, Katarzyna Spyrka, Nichole Stark, Alexander Stumphauzer, Alyysa Sykuta, Jess Thompson, Brian Thoreson, Jaclyn Tran-Nguyen, Heather Vasquez, Nicholas Vollmer, Anna Wade, Jacqueline Whitman, Amanda Wiedemeier, Amanda Wilken, Andrew Winquist, and Anastasia Yablochkin.