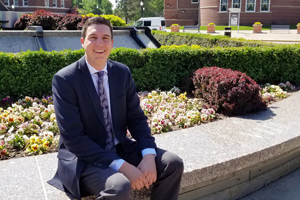 While Gabe Walsh was in his third year at Drake University Law School, he was also gaining real-world legal experience. In fact, he represented a total of 24 clients though the Drake Legal Clinic.
Iowa-native Walsh became interested in the law while in high school and majored in political science at Iowa State University. As an undergraduate student, he worked in the Story County Attorney's Office, which led him to Drake Law School.
"All the lawyers who worked there were Drake Law grads," Walsh says. "I saw how quickly they adapted in the courtroom. I knew if I went to Drake Law School, I would get that same practical approach."
After enrolling at Drake Law School, Walsh immediately got involved on campus in the Student Bar Association (SBA) and competition teams.
This January, he was part of the Drake Law team that won the national ABA Law Student Division Arbitration Competition. He was also a regional semi-finalist on Drake's National Mock Trial Competition team.
In addition, Walsh served as a student-attorney in Drake Law School's Advanced Criminal Defense Clinic, where he represented clients charged with simple, serious, and aggravated misdemeanors.
The clinic also allowed Walsh to provide legal support on several felony cases, including an attempted murder case.
"Since they were felony charges, I couldn't appear in court," Walsh explains. "But I was responsible for interacting with the client. We had weekly meetings, phone sessions, and trial preparations. It was unbelievable to be able to work on a Class B Felony while in law school."
Walsh also learned about the importance of being able to adapt in trial preparation. In one case, he received a motion in limine 10 minutes before the trial that excluded two-thirds of the evidence he had prepared.
"It was a tremendous experience because it showed how much can change between your preparation and what you actually bring to trial," Walsh says.
After graduating in May, Walsh now has his sights set on passing the bar exam. He plans to take the skills he learned at Drake Law School and apply them in the field of criminal law.
Looking back on his experiences, Walsh has a word of advice for aspiring trial lawyers.
"One of the best things you can do is go watch public trials. Go into a courtroom and see what lawyers do, how they interact with juries, and how they present cases," Walsh says.
"Being in front of a real judge can be intimidating your first time, but as long as you're fully prepared and put the time in, you can get through it."