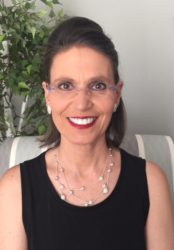 On behalf of the Iowa Mental Health Counselors Association, Drake University School of Education graduate student Ramona Wink earned a $10,000 award from the 100+ Women Who Care non-profit organization. These funds will be used to create a TV show dedicated to mental health awareness that Wink has initiated.
Wink is working toward her master's degree in clinical mental health counseling at Drake. She has been collaborating with the Iowa Mental Health Counselors Association (IMHCA) and Mediacom to develop her ideas for the TV show.
The show, in a news magazine format, will be a 30-minute program aired statewide on Mediacom three times each week. Program segments will also be available on the IMHCA website (www.imhca.net), allowing people outside of Iowa to watch and benefit from this mental health program. Wink will host the show and interview professionals in the industry about an abundance of mental health matters.
"Every story will have personal elements interwoven," Wink said. She believes inspirational stories will flood in once the series begins, as personal narratives are the link between education and resources. People find hope by learning about how others have found help, according to Wink.
Wink and IMHCA currently have enough funds to produce four or five programs. The money comes from a fundraiser Wink and a fellow Drake graduate student, Ann Flood, put on in March, and from the 100+ Women Who Care organization.
Wink has been a part of the 100+ Women Who Care organization for about a year. At their quarterly meetings, any member from a non-profit organization with an idea to better the community can put their name in a hat, from which three names are drawn. At the meeting, the three women selected pitch their idea to the members, outlining why their project deserves money and support. The members then vote for one idea, with the winner receiving a $100 check from each member—of which there are 100.
When her name was drawn to present she told the members they would be a part of the "systemic change" in the mental health field that her show will kickstart. After the three presentations that evening, the votes were cast in Wink's favor.
Wink graduated from the University of Iowa with a BA in mass communications. She worked in the marketing and advertising fields, and then in ministry for 13 years. For five years, Wink hosted a Christian TV program.
Her pathway to the mental health field was one God paved for her, she said. Her father has struggled with depression and she from anorexia, although she didn't come to terms with that until she began graduate school in 2016.
While in graduate school, Wink works as a billing specialist for 515 Therapy and Consulting in West Des Moines. "I am proud of Ramona for having the courage and drive to change careers and go back to school later in life," said Crystal Hemesath, owner of 515 Therapy and Counseling. "But most of all, I am inspired by her determination and perseverance to make a difference in the world. Ramona is not being paid for her ideas or to host the show. She is the true definition of stewardship—using her gifts for the betterment of others."
Wink firmly believes everyone is affected by mental health, either directly or indirectly, and this is a program for everyone.
All four of the Drake professors in the clinical mental health counseling program have been supportive of Wink's efforts for the TV show. She has been working for over a year with IMHCA and Mediacom to hammer out the logistics and details of the show, long before she knew where money would come from.
"The counseling program addresses the fact that advocacy is important," Wink said. "You can't just sit back and let people do it; you've got to be involved."
The professors in the program urge their students to get involved in a professional organization that directly relates to their field, and that's how Wink became a member and volunteer with IMHCA.
"Professional advocacy and client advocacy are closely connected and our students know this," said Associate Professor of Education Bengu Erguner-Tekinalp. "In my classes, I share 13th Century Sufi poet Rumi's words with my students, 'Be a lamp, or a lifeboat, or a ladder. Help someone's soul heal. Walk out of your house like a shepherd.' Ramona took this idea and realized it through her passion and hard work."
The show is set to air in mid-summer or early fall of 2018.
"I can't even begin to imagine how many lives this is going to positively impact," Wink said. "I'm very thankful to everyone who has supported this project in some way. Together, we can make a difference! This show is designed to give people the resources they need to live full and healthy lives."