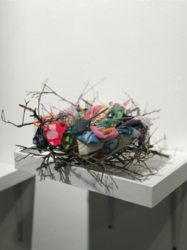 The Department of Art and Design at Drake University presents the 2018 Bachelor of Fine Arts (BFA) exhibition, Points of Intersection, from May 1—20. The show serves as a culmination of the five BFA graduating seniors' work during their time at Drake, with a total of 67 works on display in media including painting, drawing, printmaking, sculpture, mixed media and design.
The students, who were responsible for making the exhibition succeed collaboratively, worked to incorporate their five artistic viewpoints into a single theme.
Des Moines native Olivia Hockey has 20 pieces of art in the show.
"Coming up with a name for the exhibition was tougher than you'd think because there are five people with completely different art styles and personalities," said Hockey, a BFA painting and BA graphic design major with an academic minor in advertising. "[Ultimately], Points of Intersection made the most sense. Although our work is completely different, there are still similarities from one person to the next."
"Our show has a lot of diversity among subject matter and mediums which makes it possible for almost anyone to reflect and enjoy," said Maddie Snell, an Edwardsville, Ill., native who has seven pieces in the show. She is majoring in painting and psychology.
Benjamin Gardner, associate professor and department chair of art and design, said the exhibition provides students with valuable experience in presenting their work in a professional exhibition setting.
"As graduating seniors, they'll take this experience and apply it to whatever career they end up pursuing," Gardner said.
The seniors are excited to share this experience with visitors of the exhibition because of all the time and behind-the-scenes work that goes into creating the incredible works on display.
"There's so much that goes on in the art department that goes unnoticed by other students," Hockey said. "The painting studio is hidden in [the Harmon Fine Arts Center] and…Studio Arts Hall is tucked away in plain sight on the other side of campus. Amazing things are made in these spaces, and the Anderson Gallery is a more accessible way for people to see what the students are capable of."
Points of Intersection opened May 1 and runs through May 20 in the Anderson Gallery. The gallery is open Tuesday–Sunday, noon to 4 p.m. and Thursday, noon to 8 p.m.
Artist Statements: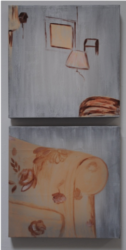 Olivia Hockey
"My work revolves around relationships between family, one's self and the space where those interactions occur. Subject matter is often taken from family photos, stream of consciousness writing and abstract imagery to express very personal information to the viewer without directly stating the meaning. My work thrives on ambiguity, my desire to share and my need for privacy."
Maddie Snell
"My work includes abstract subject matter that is specific but broad enough for people to make their own connections. These elements often reflect sacred geometry, nature, spirituality, and sound. My studies of psychology are tied in through my reflection on consciousness and my process of layering."
Katie Jensen
"My artwork reflects on concepts that are important to me: environmental consciousness, exploration of the subconscious, psychedelics, patterns, dreams and nostalgia. Much of my work is reminiscent of my childhood experiences helping my mother in the garden, playing make-believe and time spent alone in nature."