Ad capstone hosts alumni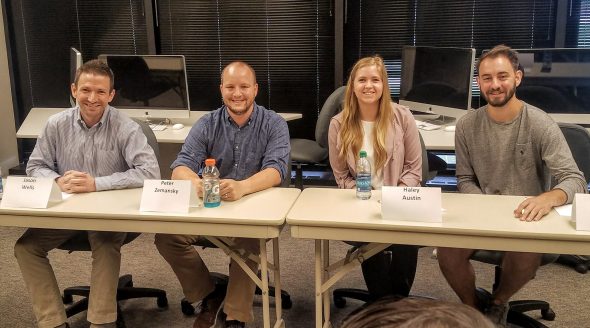 The advertising capstone class hosted a professional panel with four alumni who work in various aspects of the ad industry.  Visiting were (from left) Jason Wells, JO'04 (Trilix), Peter Zemansky, JO'12 (Two Rivers), Haley Austin, JO'15 (Trilix), and Danny Herzberg, JO'15 (Stelter).
Take an online summer class
Six SJMC classes are being offered online this summer. Five of them will fulfill Drake University AOI requirements. The classes being offered are:
May 21-June 8
JMC 030 – Mass Media In A Global Society – Information Literacy AOI
JMC 066 – Media Responsibility Over Time – Engaged Citizen AOI
JMC 099 – Social Media Strategies – Information Literacy
JMC 105 – Web Page Design
JMC 123 – Public Relations Writing – Community Engaged Learning, Written Communication AOIs
July 9-Aug. 10
JMC 076 – Advertising Principles – Critical Thinking AOI
Sign up for summer classes in MyDUSIS.
Seniors, pick up your coffee mug
Seniors are encouraged to stop by the SJMC dean's office (Mer. 118) to pick up their SJMC coffee mug and pennant from Shari Tenney. 
Report your internship, win a prize!
Do you have an internship or part-time position this summer that gives you experience in your chosen field?  Please tell us about it!  The SJMC is tracking all internships so that we may map where our internship employers are located and what kinds of positions they are providing. Also we want to ensure the best internship experiences for our students.
Please let us know by completing this short form.  If you complete the quick report and an evaluation at the end of the internship you'll be entered to win $50, $25 and $10 iTunes gift cards. Drawing held in the fall.
This form is for paid and unpaid internships.
The information you provide will be used to assess internship providers and locations. The SJMC may use this information to contact internship employers about the opportunities they provide.
Beware of parking issues during finals week
Drake finals week this year coincides with the Iowa state high school track meet, Thursday-Saturday, May 17-19, at Drake stadium. Parking will be scarce around campus. This means that if you have final exams on Thursday or Friday, allow extra time to find parking, or plan for alternative transportation. 
Congratulations to new student senators
Several SJMC students were recently elected to Student Senate. Jessie Spangler was elected to represent SJMC. Layne Burdette, Kollin Crompton and Nathan Trees were elected senators-at-large, and Rebecca Perl and Maegan Valencia were elected equity and inclusion senators.
Last chance to check out electronic equipment
The last time for electronic media checkout in Meredith basement is on Dead Day, Friday, May 11, 9-11 a.m. This is also the deadline for returning any equipment you've checked out. 
Have a news item for the Memo?
The SJMC Monday Memo is a weekly newsletter to keep members of the wider SJMC community updated on School news, achievements, events and opportunities. If you have an item for the Memo, please send it to Dean Kathleen Richardson (kathleen.richardson@drake.edu) or SJMC webmaster and multimedia professor Chris Snider (christopher.snider@drake.edu). SJMC alums and other professionals can also contact Chris to have the Memo delivered via weekly email.
The School of Journalism and Mass Communication strives to create a community of scholars that represents the complexity of the human experience in regards to race, ethnicity, sex, sexual orientation, economic status, gender identification, religion, age and physical abilities. We are committed to creating a welcoming and supportive environment for all our faculty, staff, students and visitors, and celebrating our differences through the lens of the First Amendment value of freedom of expression.