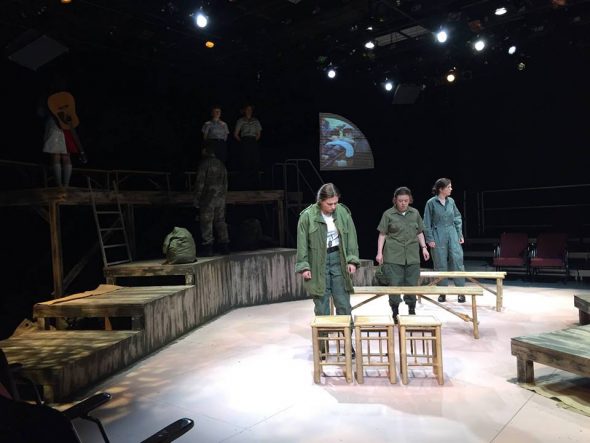 Drake University Theatre closes their 2017-2018 season with A Piece of My Heart by Shirley Lauro, directed by Visiting Assistant Professor of Theatre Erin Horst.
A Piece of My Heart runs Thursday, May 3 through Sunday, May 6 in the William S.E. Coleman Studio Theatre of the Harmon Fine Arts Center. Performances will start at 7:30 p.m. Thursday through Saturday, and 2 p.m. on Sunday.
Admission is $10 for adults and $8 for students and senior citizens. Tickets are available online, in person, or via telephone at the Fine Arts Box Office, 2525 Carpenter Ave., 515-271-3841.
A Piece of My Heart follows six women during their service in the Vietnam war: five nurses and one country-western singer that performed for the troops. Throughout the 20-year time period of the play, the woman deal with horrors that continue to affect them throughout their lives.
"It's been a difficult [production] process, as far as the material is very heavy," Horst said. "Of course we can't really fully understand it in our generation, none of us having served in a war, none of us really understanding how serving in the Vietnam war went at that time, how women were treated at that time. They play is a really beautiful look into that."
Drake's small-cast production has offered a unique process of story-telling, said Maddie Ripperger, a senior BFA musical theatre major.
"We are really lucky to be doing a show that is really ensemble driven," Ripperger said. "It's similar to The Laramie Project or Come From Away in that we all sort of have one character that is our own character, but then we play other characters in order to facilitate the story for the other actors."
While set in a very specific time period, A Piece of My Heart tells a universal story that still resonates today.
"It's a story about women and really the six women, when we look at it, could be one woman," Horst said. "The whole idea is that one woman is a piece of a whole. It's quite beautiful."